Teacher of teachers
At Piedmont, teaching and education is our lifeblood. For more than a century, we have been known as an institution that teaches teachers. Our College of Education graduate program is the largest in Georgia, and we place more teachers than any other teacher-preparation program in the state.
That's a lot of green and gold in classrooms.
Ask our graduates why they chose Piedmont, and you hear a common refrain. We inspire others to inspire. Through mentoring, we teach mentorship. Our alumni are scholars, proactive educators who cultivate caring and meaningful learning.
Interested in Education?
40+
Public and private school systems offering Piedmont internships
$48,763
Estimated salary of Piedmont alumni from this college
"I was able to translate so much of what we did in class to my student teaching experience—and have a lot of success."
Blake Byington '20, Education, BA
Our Programs
Undergraduate
The College of Education offers six undergraduate majors.
Graduate
The college offers the latest graduate programs for teacher education and places teachers at the highest rate in the State of Georgia.
Educators wishing to enhance their professional skills and knowledge, add a new teaching field, or prepare themselves for leadership roles in teaching and learning have chosen Piedmont because of its excellent programs, capable and enthusiastic faculty, and flexible options for active professionals.
Master of Arts in Teaching
Piedmont University has a proud history of preparing teachers to work in schools in Northeast Georgia and beyond. The College of Education offers several degree programs leading to teacher certification that have been approved by the Georgia Professional Standards Commission for initial teacher certification. Candidates from other states may be eligible for certification under the Interstate Certification Compact. Programs are available on both the Demorest and Athens campuses, depending on the content field.
Master of Arts
The College of Education offers several advanced degree programs for teachers to enhance their knowledge and skills and/or upgrade their certification. The programs are offered on the Athens and Demorest campuses. Classes are offered on both the Demorest and Athens campuses, in addition to online through our online graduate studies program.
Educational Specialist
The Educational Specialist degree comes in four fields. Individuals with a master's degree from an accredited college or university may wish to pursue coursework that will enhance their teaching skills and/or prepare them for instructional leadership roles in their schools or school districts.
Doctor of Education
The Doctor of Education degree (EdD) is designed to develop eminent leaders in the field of education. The primary focus of the EdD program is to facilitate transformational change of individuals and schools by preparing teacher leaders, other school professionals, and school administrators for the challenges of our rapidly changing world. The program will also serve to prepare educators for various roles in college and university teaching and in research and leadership positions in other educational institutions.
Non-Degree Options for Certification-Only
Professional Endorsements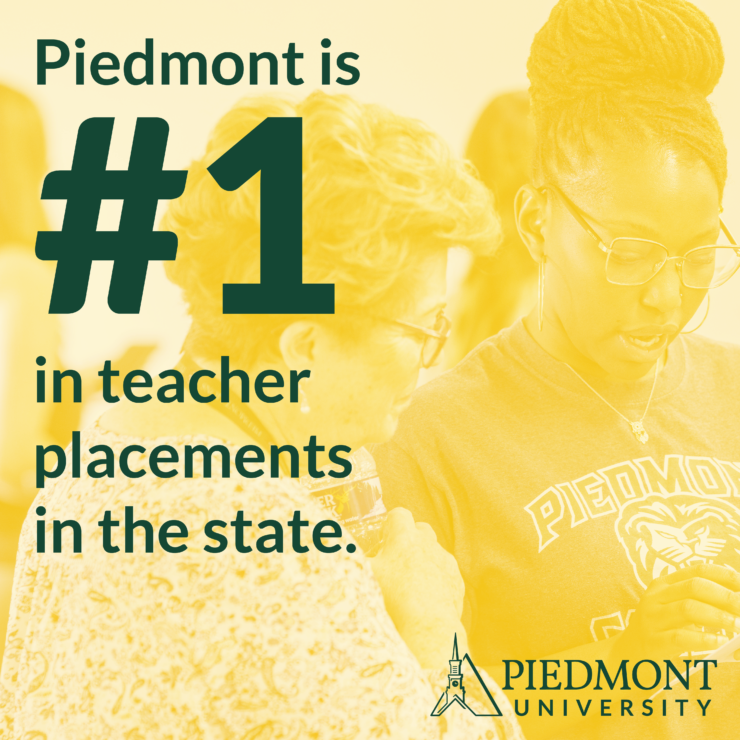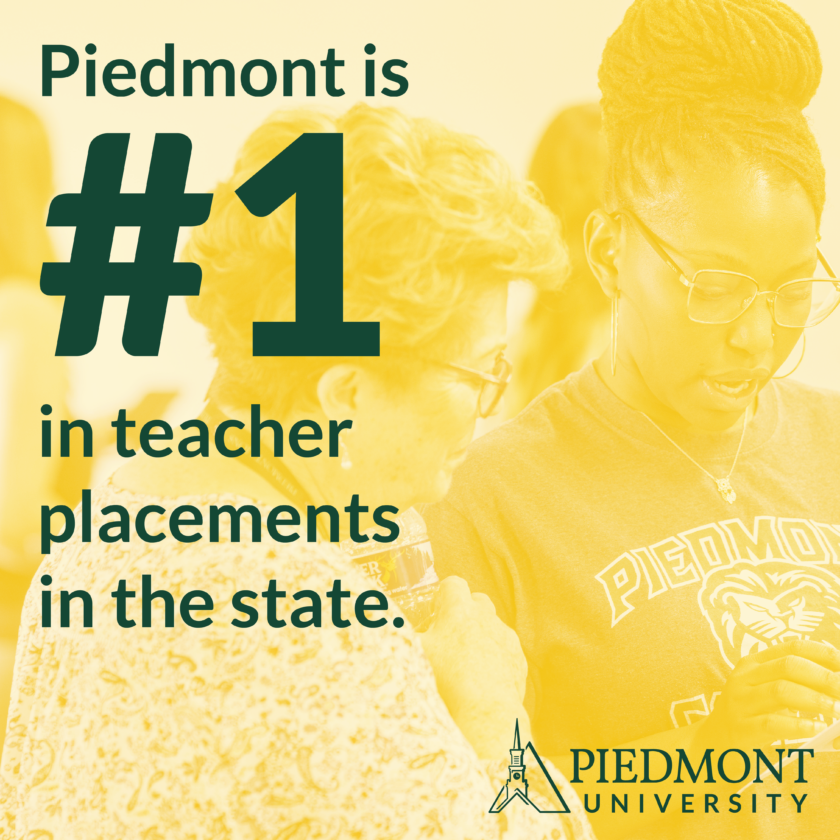 Piedmont University #1 in Teacher Placements
Piedmont University places teachers at a higher rate than any other education preparation program in the State of Georgia, according to a new report from the Governor's Office on Student Achievement. "Providing high-quality teacher preparation has been at the heart of Piedmont(…)
Keep Reading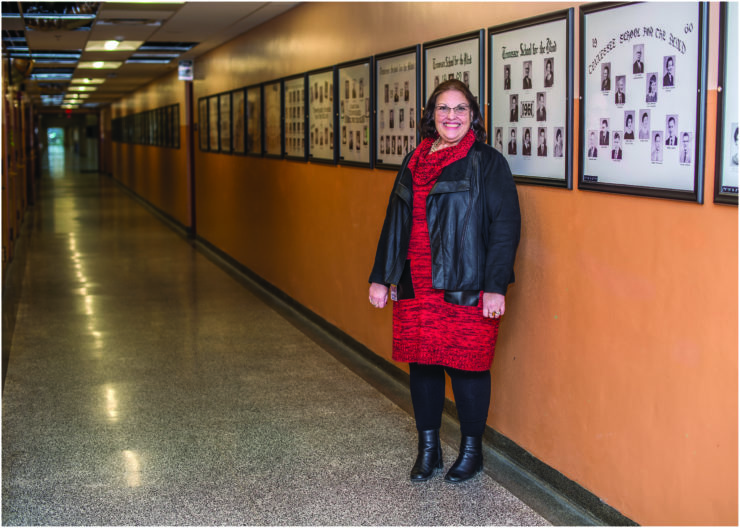 A visionary for the vision impaired
There are roughly 2,500 blind students living in Georgia and Tennessee. Of these, only a fraction has heard of Dr. Kathy Segers. But no one, according to advocates and educators, has had a greater impact of the lives of visually impaired students in this pair of states than Segers. During a(…)
Keep Reading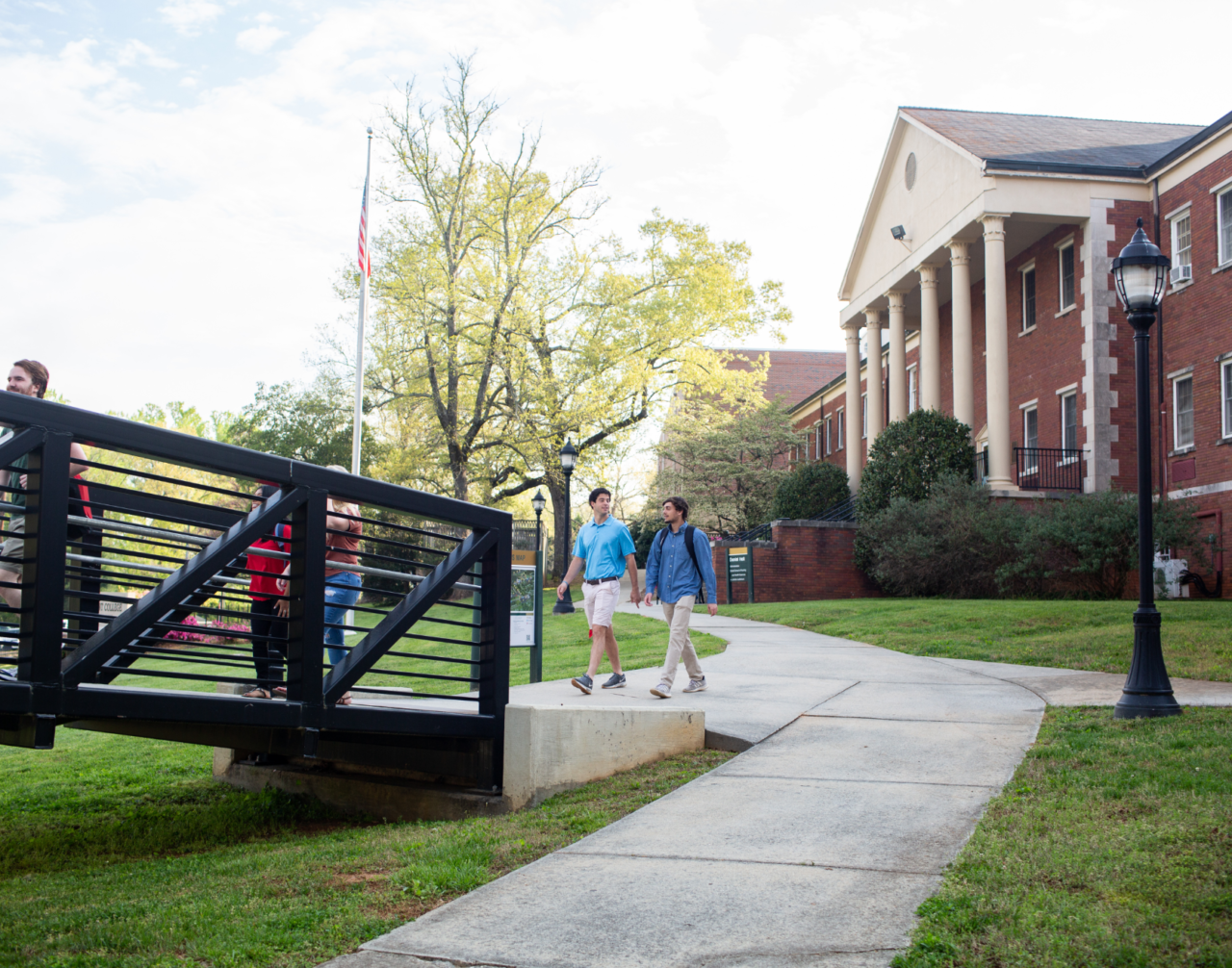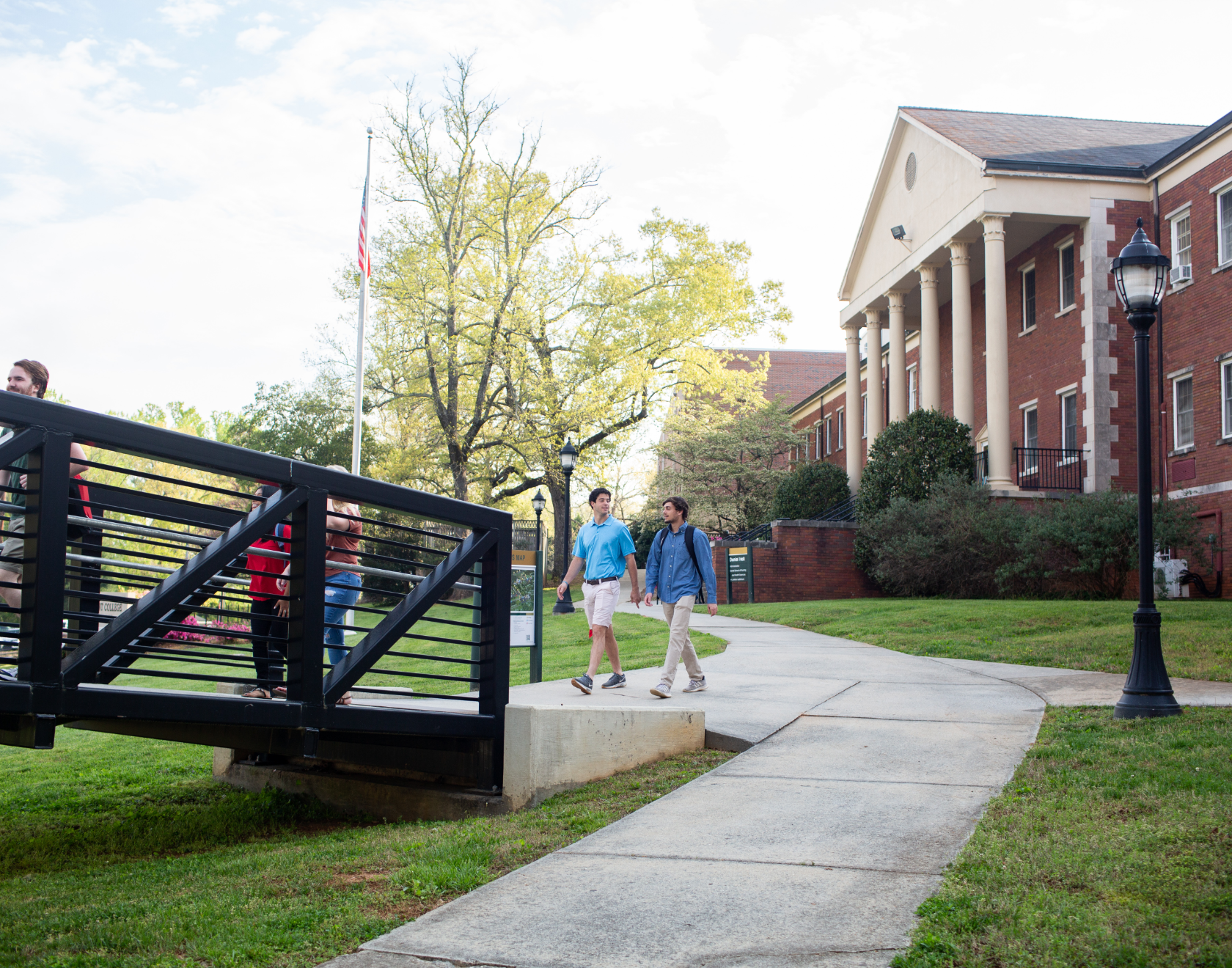 Our Promise
For all students, Piedmont will provide an educational experience that is personal in approach, passionate in application and practical in impact.
---