This program
Best fit for:
• First-time college students, transfers, or non-traditional students
• Residential students at our main campus or commuters.
Who will my professors be?
QUESTIONS?
Our Undergraduate Admissions team can help!
---
Undergraduate Admissions
P: 706-776-0103
E: ugrad@piedmont.edu
The Bachelor of Arts (BA) degree program in Secondary Education prepares candidates to teach at the high school level and leads to Georgia certification in secondary education (6-12).
The teacher preparation program in Secondary Education combines course work and field experiences, culminating in a yearlong school experience that is comprised of two apprenticeship semesters. Experienced faculty and educators in local schools work collaboratively to provide candidates with the knowledge, strategies, and real-world experiences that prepare them to teach in 21st century high schools.
Students may wish to pursue the degree in Secondary Education in one of the following content areas:
Biology
Chemistry
English/Language Arts
History
Mathematics
The BA degree program in Secondary Education is a joint program with the College of Arts and Sciences. Students are assigned a faculty advisor in the chosen content field and also within the College of Education. In addition to course work in the liberal arts and sciences and the chosen content teaching field, students also complete courses in teaching and learning and teaching methodology. To enhance their marketability, candidates may also elect a sequence of three courses to earn in-field endorsement in Gifted Education.
Candidates must apply for and be admitted to Teacher Education, complete the Education Teacher Performance
Assessment (edTPA), and pass the Georgia Assessments for the Certification of Educators (GACE) content exams in their chosen content field.
Given the number of credit hours required in both education courses and in the content field, an additional semester may be necessary to complete course work and the apprenticeship.
Dual degree option. Some students interested in secondary education may also opt to work toward the BA degree in the chosen content field and then continue on at Piedmont to obtain the Master of Arts in Teaching degree in secondary education. Additional information can be found in the Piedmont University catalog.
What classes will I take?
Prepare to Make a Life
What can I do with a major in Secondary Education?
Piedmont students have gone on to pursue careers in:
Biology Teacher
Chemistry Teacher
General Sciences Teacher
English/Language Arts Teacher
History Teacher
Mathematics Teacher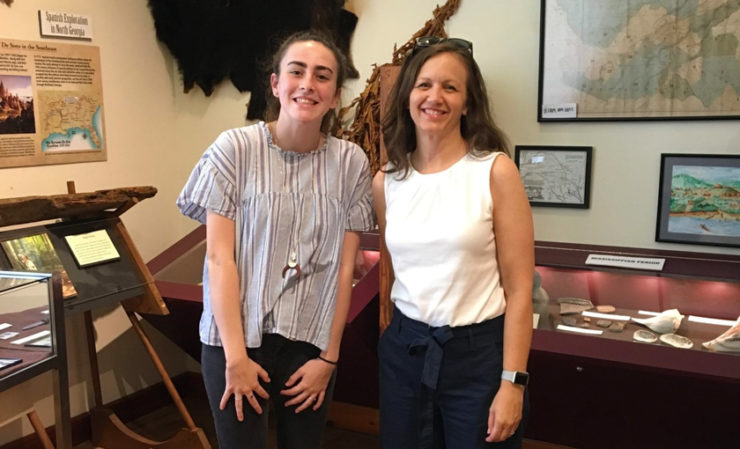 Hatfield making her own history in the Nacoochee Valley
As a preteen, Madison Hatfield '21 wanted to take a "fun family weekend trip" to Andersonville, a tiny Georgia town once home to a prisoner-of-war camp. Thousands of Union soldiers died of scurvy and dysentery in the 14 months the Confederacy operated the camp during the Civil(…)
Keep Reading
Related Programs
You might also be interested in one of these programs.