Back to news
Hatfield making her own history in the Nacoochee Valley
As a preteen, Madison Hatfield '21 wanted to take a "fun family weekend trip" to Andersonville, a tiny Georgia town once home to a prisoner-of-war camp. Thousands of Union soldiers died of scurvy and dysentery in the 14 months the Confederacy operated the camp during the Civil War.
Dr. Beth Lovern, Associate Professor of anthropology at Piedmont and a mentor to the senior, would not be surprised by that story. Lovern took note of Hatfield's "intellectual curiosity, motivation, and organizational skills" when she received news of an internship at the Sautee Nacoochee Cultural Center (SNCC) history museum. Executive Director Patrick Brennan was seeking help with digitizing the museum's collection.
"Early on, Madison had expressed an interest in museum studies as a way to combine her interests in history, sociology, and anthropology," she said.
Hatfield photographs and numbers pieces in the collection. The work is critical to the launch of the center's first app as well as a new written guide highlighting historical and cultural resources in White County. The North Georgia county is home to the Nacoochee Valley, unincorporated Sautee Nacoochee and the cities of Cleveland and Helen, an Alpine Village-themed tourist destination.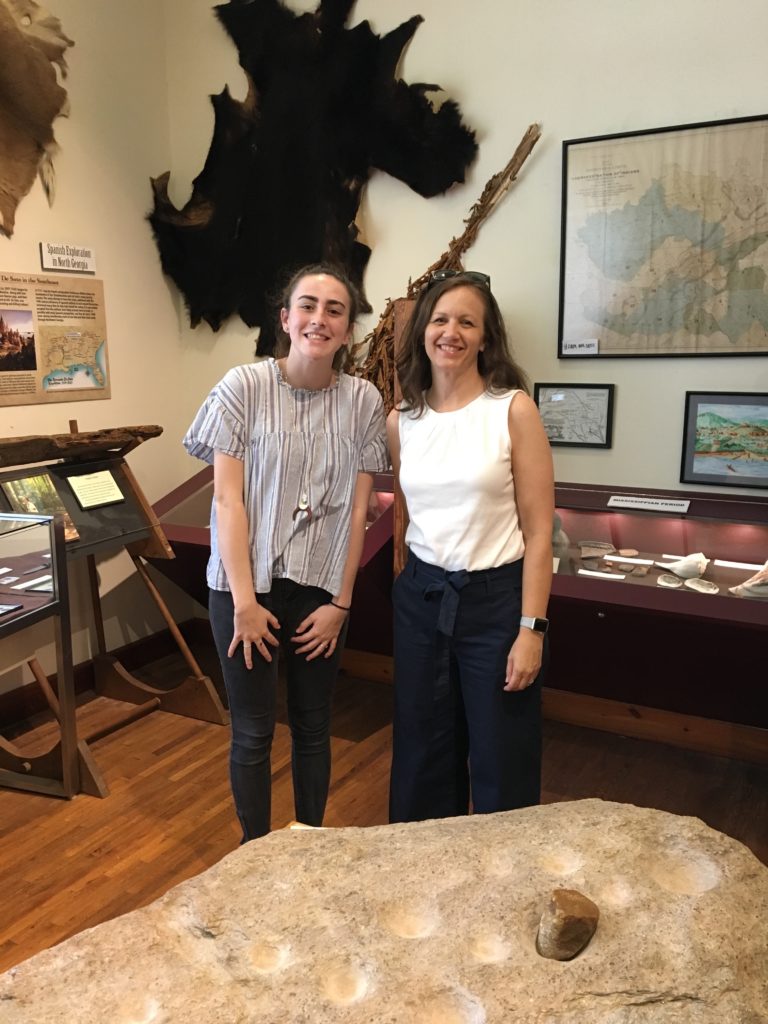 Hatfield's work is historic in itself and has resulted in waves of gratitude from locals.
"People from the history museum committee who have wanted this project done for years come up to me and say, 'you don't know how much this means to us that you are doing this,'" Hatfield said. "It's just very rewarding."
The experience likely will guide her life's direction. She may pursue a master's and possibly a PhD. She could teach or go into law. She could practice public history and apply it to real-world issues. She will also have a minor in social justice as a participant in the Lillian E. Smith Scholars Program.
The future of history

According to Brennan, municipal leaders have seen the light around historic preservation and heritage tourism as moneymakers. Hatfield's work will help provide the authentic experience visitors seek.
More than 189 historical sites have been identified in and around the Nacoochee Valley thanks to students. It marks the beginning of what will surely be a long process as just 18 sites will comprise the first heritage tour. Hatfield prioritizes artifacts that relate to those sites, bringing history to life as she goes.
"She's been able to associate Indian pottery from amateur archeology at the Stovall House, which is one of our three [National Register of Historic Places] sites in the county," Brennan said. "When you go onto the app, there is a carousel at the top of the page. There is an image for the John Stovall House, so you can push through and see a picture of the house, the Stovall family on the porch, a picture of the house as it was on an early map of White County."
The Stovall House today is a bed and breakfast, and a clear link between history and modern-day tourism and commerce.
The SNCC uses a gazebo as its marketing icon and with good reason. There is one nearby just off State Route 75 that is well known to locals and tourists alike. Built around the turn of the 20th century, the gazebo sits atop what appears to be a burial mound that has for decades been wrongly associated with the Cherokee. The structure is considered either an insult to native peoples or a protectant that saved the mound from further destruction.
It will take the work of people like Hatfield to tell the area's truth.
"It's important to highlight our accomplishments in history, but we don't highlight the times we failed as humans, and that is why I love studying history," Hatfield said. "It's like flipping a switch when you get into college. This is the real world. This is what happened. You've got to deal with it and move on and build off of that knowledge."