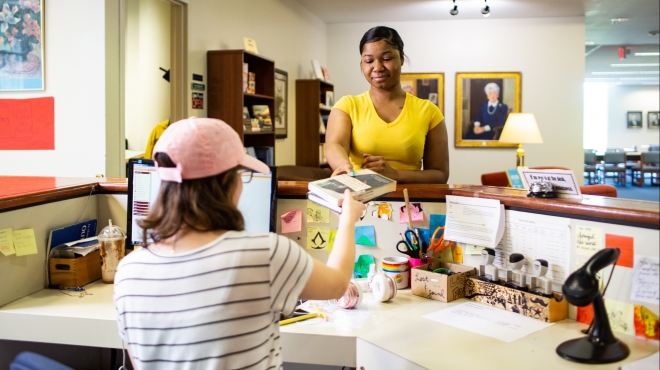 PIEDMONT UNIVERSITY LIBRARY supports the university's academic programs and research by facilitating the information access and instructional needs of all members of the Piedmont community, wherever they are located. The Library currently houses more than 90,000 volumes and provides access to more than 56,400 online journals, magazines, newspapers, and legal resources, and more than 420,000 ebooks.
Collections and Facilities
The Library's staff and physical collections are based at the Arrendale Library in Demorest. This location features a collection of 90,000 printed volumes, 15 public access computers, four group study rooms, two conference rooms, a WEPA printing kiosk, and seating for more than 100 patrons across three floors.
The 3rd floor is the main entrance floor and contains the public-access computers, current and popular leisure collection, and periodicals. The circulation and reference desks are also located on this floor. The book stacks are located on the 2nd and 4th floors. Private and collaborative study areas are available on each floor. The Library's website – https://library.piedmont.edu/ – is the gateway to our Online Library, which provides access to a wide range of virtual resources, including research databases, book catalogs, streaming services, and other academic tools and services. Wherever students and faculty are located, the Library's website connects them with the full-text of over 420,000 ebooks and articles from over 56,400 magazines, newspapers, journals, and legal resources. This includes 19,500 peer-reviewed journals in all the disciplines offered for study at Piedmont University. In addition, online access is provided to over 72,000 full-length videos and to the complete Historical Periodicals Collections of the American Antiquarian Society. You may contact librarians directly for information or research assistance during hours of operation by phone or online chat. The Arrendale Library phone number is 706-776-0111. Chat widgets are located on every page of our website. Email reference services are closely monitored through our Ask a Librarian! service. Librarians are also available for one-on-one research consultations, by appointment or otherwise.
Contact Us