Back to news
A visionary for the vision impaired
There are roughly 2,500 blind students living in Georgia and Tennessee.
Of these, only a fraction has heard of Dr. Kathy Segers.
But no one, according to advocates and educators, has had a greater impact of the lives of visually impaired students in this pair of states than Segers. During a career that has spanned 35 years, the Habersham County native has served as a teacher, principal, administrator, and superintendent at institutions that educate and serve the visually impaired.
Like a large rock cast into a small pond, the ripples of her labor, tireless work ethic, and unrelenting, obsessive pursuit of order have touched the lives of the visually impaired from the Mississippi to the Savannah Rivers.
To understand, imagine that you are a young, blind student. Outside of the words from a teacher or computer, braille is your only path to learning. It fills a dark world with the light of imagination and possibilities.
Braille books, workbooks, and learning manuals, though, are a rare find. Many are produced individually at great cost and labor. Translating a 200-page book from print to braille can take four days. Precious few reading materials are mass produced. The ones that are comprise bulky volumes and are very expensive. A braille version of a Harry Potter book costs around $500 on Amazon, compared to $35 for the printed version. Think about this: A braille copy of the Bible can consumer five feet of shelf space.
For decades, the Georgia Department of Education had no accurate inventory of its braille books and other learning material for the blind. Many were lost. And it took a dogged detective to track down others.
In 1998, Segers helped launch the Georgia Instructional Material Center, a state-operated repository that was developed to procure, house, and ship all the braille and large-print materials for the state's 181 school districts. By all accounts her work brought order to a chaotic system. It put more learning materials into the hands of the visually impaired. And it took less time to get there. Along the way, she modernized and streamlined the process and saved millions of tax dollars.
Now, she's duplicating the same feat for the State of Tennessee.
Just a few yards from Segar's office on the sprawling campus of the Tennessee School for the Blind is the site for a new two-story, 20,000-square-foot resource center. When completed next summer the building will house thousands of braille books and other leaning materials for the visually impaired. If an order is placed for a blind student, Segers vows the book will be shipped the next business day.
Since assuming control of the center a year ago, Segers has recycled outdated materials, bar-coded inventory, improve efficiencies, and laid the groundwork for the building transition
"It was not a resource that our educators were aware of before," says Eric Williams, executive director for operations for the Tennessee Department of Education. "Now the number of requests we are getting has exploded. Her work is truly having a statewide impact."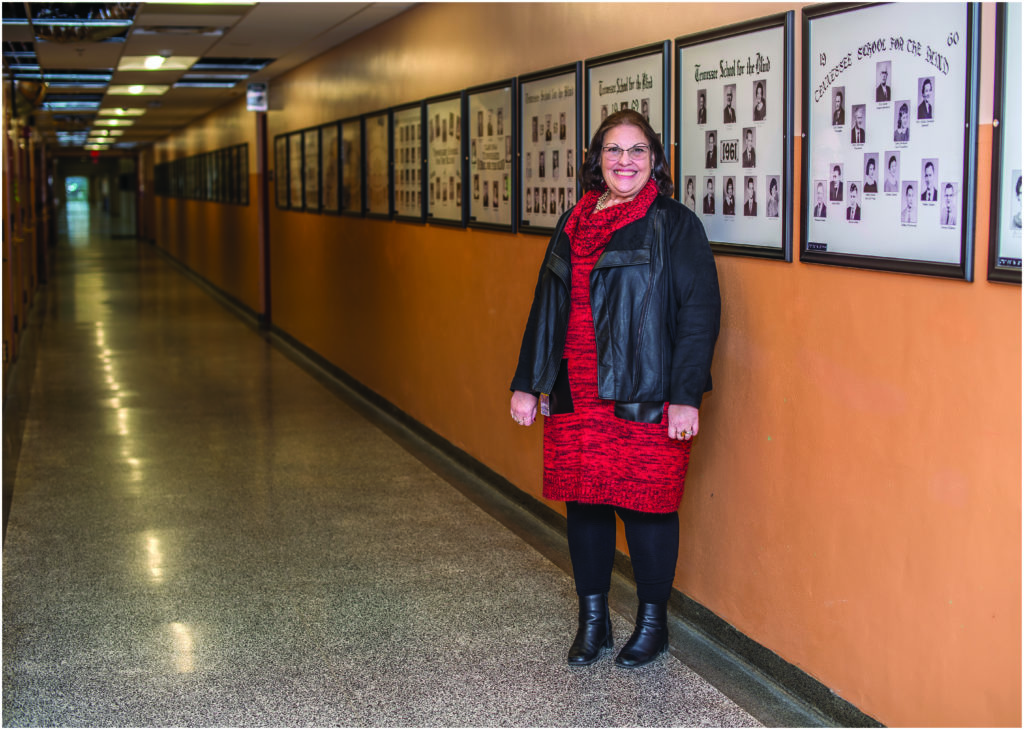 Habersham roots
Colleagues and friends describe Segers as a restless servant leader who never became too big to do the small things. A native of Demorest, she blew through her time at Piedmont in just two years, graduating in 1982 (summa cum laude) with a BA in Education. Segers, who also completed several music courses at the college, worked as a music teacher for six different elementary schools in Habersham County – Cornelia, Baldwin, Hazelgrove, Woodville, Demorest, and Fairview – in the 80s where she developed a niche for helping students with learning disabilities.
"Everybody learns differently, particularly students with disabilities," she says. "Finding that thing that can turn on the light bulb can be a puzzle. And I fell in love with that process."
As a teacher of visually impaired students, Segar experienced the bureaucratic nightmare of getting a braille book. It took weeks, sometimes months. When a Georgia school teacher needed a braille workbook, they logged it with the state, and an official there often ordered the book through a vendor, had it shipped to the school, and catalogued the purchase and location. Over the years, the schools loaned the books to others, discarded them or lost track of them altogether without notifying the state. The result: education officials had no accurate inventory. And tracking down an item was cumbersome and time-consuming.
The new Georgia Instructional Materials would change that by serving as a repository and shipping house for all state-owned educational materials for the visionally impaired.
"The first thing I did was send a statewide letter and asked everyone to send me all of their material. You would not believe all that came in, stuff from the 1930s and 40s," she says. "We purged some, kept the good, and catalogued it all."
That was the start. Efficiencies continued to improve. A new cataloguing software helped, and soon the center was humming and became a model for others.
Outside of the center, Segers led an effort to teach newly adopted braille code to select prisoners. Transcribing a textbook into braille was expensive. Prisoners could do it for very little while learning a marketable skill and saving the state hundreds of thousands of dollars each year.
In 2014, Segers took a step back from her job to care for her aging mother and retired soon after when she attained 30 years of service, the state's mandatory retirement age for employees. She and her husband, Mark, moved back to Habersham County. And they visited the Outer banks of North Carolina and the Shenandoah Valley before the call from the Tennessee School for the Blind.
They needed a principal.
A second state and a second career
Segers had too much energy to retire, and the new position meant a return to the classroom.
More than 80 percent of Tennessee's visually impaired students are taught in their home districts. Those who need extra attention, or face a unique situation, are referred to the School for the Blind, which houses and educates about 130. Others are at the school because their rural school districts lack the resources to care for and educate visually impaired students.
Originally constructed the 1950s, the school works with children from five to 18. All are taught on the Perkins Brailler, a typewriter with six keys and two side knobs that was first introduced 1951. There are varying degrees of blindness, so some students roam the halls like a typical sighted student. Others make their way with the help of a guide or tapping stick.
Subtle differences in the building that go unnoticed to the untrained eye are critical to helping the visually impaired. The ceilings are high, allowing sound to reverberate. Hallway floors and outside sidewalks have different textures that be detected by students with tap sticks. Students know that the soft floor tile in the hallway makes a different noise than the hard-ceramic tile near the exits.
The educational experience at the School for the Blind is intensely individualized. Teachers work with tiny clusters of students, and some learning occurs one on one. For Segers, who is identified by students by her jangling jewelry, the role of principal helped her rediscover the joy of being on the front lines of learning.
Beyond the classroom, though, her early years as an administrator were tumultuous. After decades of steady leadership, the institution endured two successive superintendents that did not last long. As commissioners began the search for a permanent superintendent, they needed a bridge, someone who understood the blind culture and had the respect of the existing staff.
For Segers, that meant a step up to interim superintendent.
Kelly Benton, Director of Federal Programs at the school, said Segers had instant credibility and respect. And she had a reputation for being fair, collaborate, and gracious.
"She just knows vision and she had a great reputation with all the stakeholders," says Benton. "She was a team player who had already accomplished so much before she came here."
When David Martin was named superintendent June 2017, many assumed Segers would return to her post as principal. But she had different plans. Throughout her period as interim, Segers had mentored a colleague (Tonja Dandy) who was primed for that position. And Segers knew the school's resource center needed help.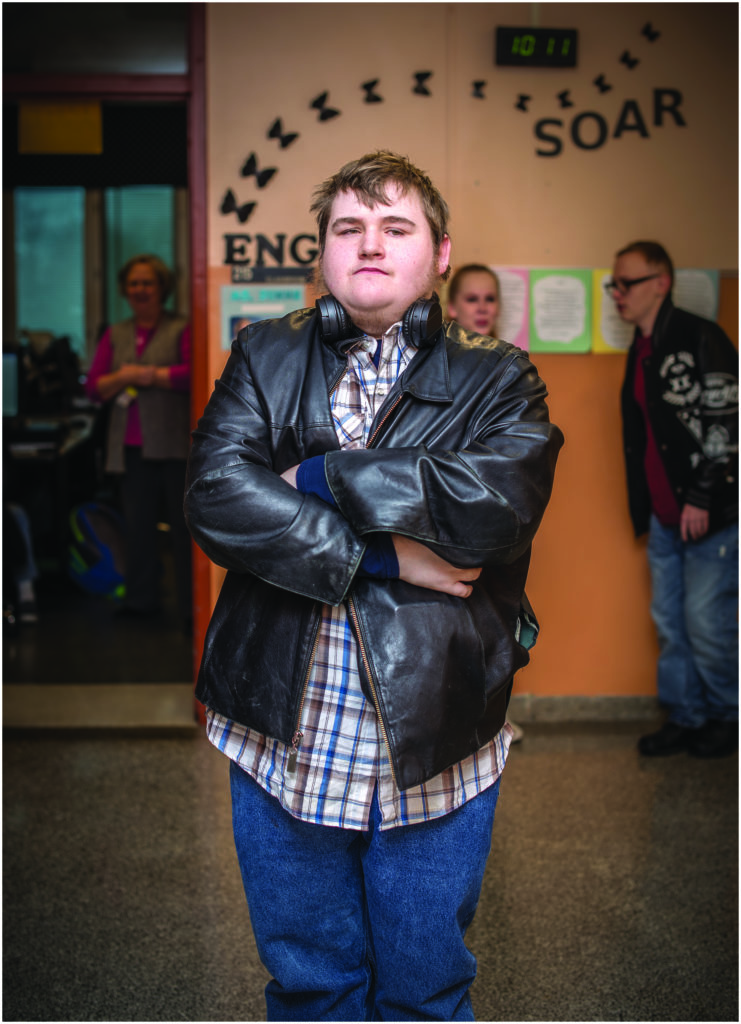 So, nearly three decades to the date, Segers is again leading and modernizing a resource center. Only this one is in a different state. On the side, she's even working with the state's prison system to teach braille to Tennessee inmates. The irony is not lost on her.
"It's kind of interesting, isn't it?"
But she knows, the resource center is where she belongs. The job satisfies her need for order, organization, and efficiency. It's also a place where she can do the greatest good.
"When you put braille into the hands of students who needs it, you open up a new opportunity for them. You open a door for them to learn just like any other child. No amount of auditory will give you what a braille book can," she says. "With braille you can transform lives."