Back to news
Hired Before Graduation: Piedmont University's Spring 2022 Health Sciences Grads are Already Succeeding in the Workforce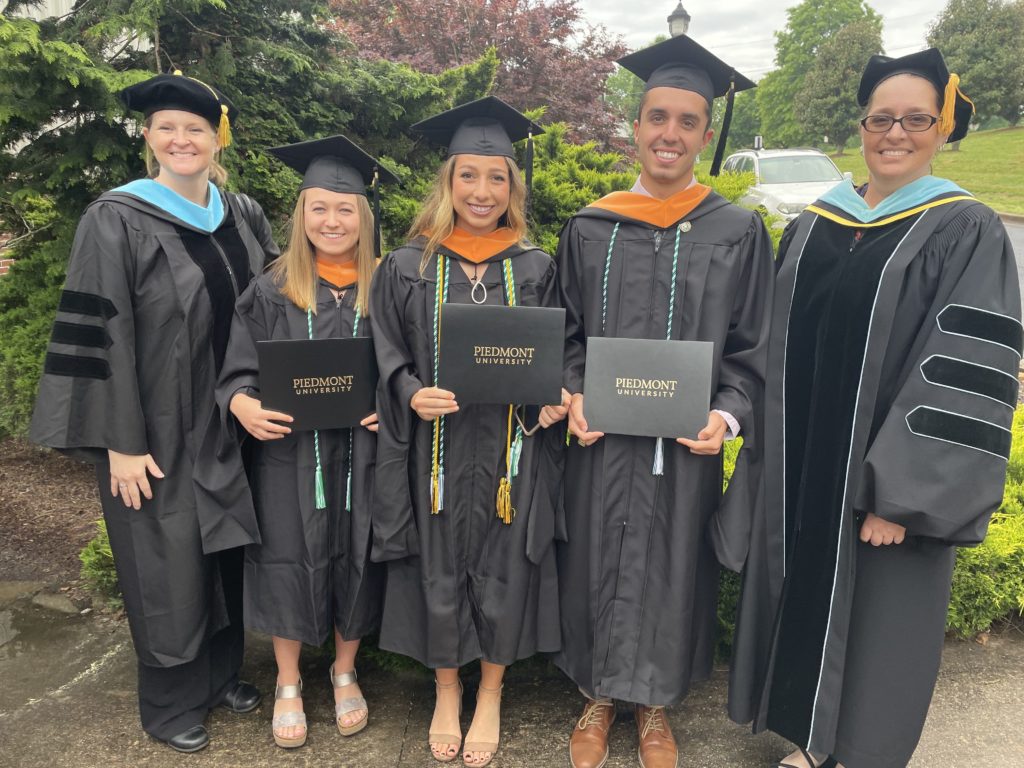 This spring, three graduates earned master's degrees in health sciences from Piedmont University, and all three were hired in their field before they crossed the commencement stage.
"Our programs are designed to prepare and position graduates for success in the workforce. These are exactly the kind of outcomes we strive for and celebrate. We are so proud of each of these students and can't wait to see what they do next," said Associate Dean for Health Sciences and Athletic Training Program Director Dr. Abbey Dondanville.
Piedmont offers two accelerated programs that allow students to earn the Bachelor of Science in Exercise and Sport Science and either the Master of Science in Athletic Training or the Master of Science in Health and Human Performance in five years. Normally, it would take students at least six years to complete both an undergraduate and a master's degree.
While fast-tracking students' entry into the workforce, the programs also prepare students for board certification and allow them to complete a variety of clinical experiences designed to build their professional proficiency and networks. The result is graduates that are in high demand.
Here's a closer look at the spring 2022 graduating class and the success they're already experiencing in the workforce:
Sloan Fletcher — High School Athletic Trainer
Sloan Fletcher earned her bachelor's degree in Exercise and Sport Science and master's degree in Athletic Training. During a six-week clinical training at Banks County High School in Homer, Georgia, Fletcher gained real-world experience, made professional connections, and learned that a full-time position would soon be available. Fletcher jumped at the opportunity, and in April, she was hired by PlaySafe, the vendor that provides athletic trainers to high schools throughout South Carolina and Georgia, including Banks County High. She will start working as the athletic trainer at Banks County High in July.
"It worked out perfectly because during my clinicals, I was working under the person who had this job before me," Fletcher said. "So, I got to learn from her and get a first-hand look at how the job worked."
Fletcher, a native of Tifton, Georgia, ran cross country and track and participated in the cycling team at Piedmont. Athletics has always been an important part of her life, and she is excited to start a career that that will allow her to work closely with others who share her love for sports.
"It's been my goal to work with athletes for a long time. I can't wait to get started," she said.
Gabby Lotter — Collegiate Athletic Trainer
Gabby Lotter has always loved sports and helping others, and her new career perfectly combines those passions. Lotter earned her Bachelor of Science in Exercise and Sport Science and master's degree in Athletic Training. Prior to graduating, she was hired as a paid athletic training intern at Nicholls State University, an NCAA Division I institution in Louisiana.
Lotter played soccer at Piedmont, but during her clinical training, she spent time working with the university's softball team. That experience helped prepare her for the position at Nicholls, where she will work primarily with the softball team.
"During the clinical rotations, I realized that I liked working with high school- and college-aged athletes, and that a lot of people in that age group have not had good role models," said Lotter, a native of Newnan, Georgia.  
"I can be a good role model for them, and that's something I'm really excited about doing."
Max Miller — Strength and Conditioning Coach
Max Miller graduated with his bachelor's degree in Exercise and Sport Science and master's degree in Health and Human Performance. Prior to graduation, he was offered and accepted a job as a strength and conditioning coach with D1 Training Milton. In his position, Miller will work with clients of all ages, helping them reach their fitness goals.
"I'll help them get bigger, faster, and stronger," said Miller, a native of Woodstock, Georgia.
A lifelong athlete who ran cross country and track for his entire five years at Piedmont, Miller said even just a few weeks on the job, he already feels like he's making a difference.
"I've had people compliment me on my ability to correct their form and to push them," he said. "It's exciting to know that I'm helping people live healthier lifestyles. I'm excited to have this as my first step in the fitness industry."
Learn more about Piedmont's College of Nursing & Health Sciences.