Back to news
Contemporary Art Exhibition on Display at Piedmont University's Mason-Scharfenstein Museum of Art Through Aug. 18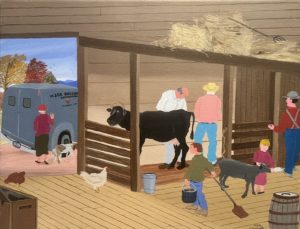 Piedmont University's Mason-Scharfenstein Museum of Art will display an exhibition of contemporary art from the permanent collection through Aug. 18.
The museum, 567 Georgia Street in Demorest, is open from 12 to 5 p.m., Tuesday-Saturday. A closing reception will take place from 5-7 p.m. on Aug. 18. Admission to the museum is free. The reception is also free to attend.
The contemporary art exhibition will include artwork from the 1970s to present day.
"We have examples of painting and sculpture from the late nineteenth and early twentieth centuries on display year-round," said Rebecca Brantley, director of the MSMA.
"With this summer show, we want visitors to see the diverse blend of backgrounds and styles that are a part of our permanent collection's contemporary holdings."
Some of the pieces that will be included in the contemporary art exhibition: folk art by North Georgia artists and projects by artists who have exhibited with or taught at Piedmont in recent years.
"For example, we have an iconic Coke bottle from Howard Finster on display alongside a painting by Demorest native Kenneth Woodall. Both are part of our small collection of southern folk art," Brantley said.
"Across the gallery, you will find a mixed media work by former visiting artist Allison Spence, who taught at Piedmont from 2016 to 2018. Her work combines imagery of her sculptures with kudzu, a non-native plant species now ubiquitous throughout the state."
Brantley added:
"We also brought out work that has not been shown since 2015, including a sculpture and a painting by Navajo artist R.C. Gorman. Gorman died in 2005 in Taos, New Mexico, where he ran a well-known gallery. During his life, he was famous for his images of Navajo women."
Other highlights include a ceramic work by Ron Myers of Athens, Georgia, and documentary photography by Atlanta-based artist Chris Aluka Berry and the late Bud Lee of Plant City, Florida.
The exhibition will be used for educational programming, including sessions with Piedmont art education graduate students and a group of teachers from throughout the state who attended a weeklong program organized by Piedmont's Lillian E. Smith Center.
For more information on the Fine Arts at Piedmont University, visit piedmont.edu/about-piedmont/fine-arts-piedmont.