Back to news
Piedmont Business Alumnus Uses Lessons He Learned from His Professors on a Daily Basis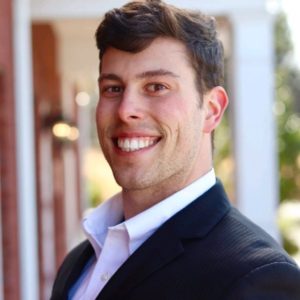 In his work as a consultant with Austin, Texas-based Abrigo, two-time Piedmont University Walker College of Business alumnus Zach Englert creates economic models that assist financial institutions in making complex, multimillion-dollar decisions.
As he looks ahead to the next quarter or fiscal year, Englert is also always looking back, to the lessons he learned as a Piedmont University student.
"One of the reasons why I chose Piedmont is that the faculty all had decades of experience in the real world. When I started comparing the experiences I would have at other schools, I realized that I would be learning from ex-industry professionals, not career academics. These were individuals with decades of success in business, and they wanted to tell you how they did it," Englert said.
"I would learn more from my Piedmont professors in a 10-minute conversation discussing how they got to where they were in business than I would from an entire textbook, and I still use the things they taught me today."
Englert completed his Bachelor of Science in accounting and finance and Master of Business Administration at Piedmont in 2017 and 2018, respectively.
Growing up near Kennesaw, Georgia, Englert attended a small high school. He originally planned to study accounting at the University of Georgia, seeking that big-school experience. But when Piedmont approached him about playing soccer at the collegiate level, he decided to take a tour of campus. Right away, it felt like home.
"I fell in love with the small-school atmosphere," he said.
Englert's interactions with faculty members sealed his decision to attend Piedmont.
He recalled talking to former Walker College of Business Dean Dr. Ed Taylor about his time leading an energy conglomerate and to Business Professor Dr. Steven Carlson about his long, successful career in sales and marketing. He learned from Associate Dean Dr. Margaret Ryder's experience as an attorney specializing in real estate, small business development, and contracts, and from former Business Professor Walter Keel, who held a leadership role at a large accounting firm.
He distinctly remembers Dr. Gerald Sullivan sharing his experiences flipping companies.
"I remember taking his ethics course, and he told us, 'This is what your textbook is saying, and I'm not saying it's wrong, but this was what I experienced,'" Englert said.
"He shared with us that after a company goes bankrupt, he would be asked to go in and make some tough decisions. No one ever talks about having to make hard decisions, such as who gets to keep a job and who doesn't, to make sure the business stays afloat. He explained that while cutting some people was difficult, it was necessary save jobs and the company. It was just such rich experience that he was able to share with us.
"I wasn't going to get the kind of real-world education that I got at Piedmont anywhere else."
Abrigo is a provider of compliance, credit risk, and lending software that specializes in serving community banks and credit unions.
"Very simply, we help our customers maximize the use of data to make financial decisions," Englert said.
In his day-to-day, Englert works directly with C-suite executives. His clients have assets ranging from $50 million to nearly $50 billion.
"I'm on the phone anywhere from four to seven hours a day. I love my job because I love talking to people, and I get to do a lot of problem-solving," he said.
Perhaps the greatest lesson Englert gained from his time at Piedmont has been how to navigate his own career.
"My professors taught me that I'll get paid based on the value I bring to the company, not just the hours you would work. That was a huge breakthrough for me in how I approached my career, and it's helped me lobby for higher level positions based on the value I can provide to an organization," he said.
"For the many things I learned as a student, I'm a huge Piedmont fan."
Learn more about Piedmont's Walker College of Business at piedmont.edu/business.