Back to news
Three-Time Piedmont Grad Nic Johnson Now a Successful Performer, Music Teacher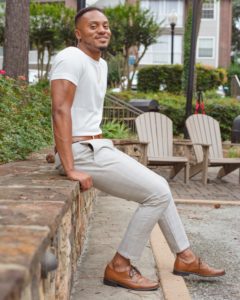 When he enrolled at Piedmont University, Nic Johnson knew only three things for sure: He wanted to take voice lessons, learn to play the piano, and start a gospel choir. What he would do next, he had no idea.
Now, with three Piedmont degrees to his name, Johnson is proud to say he achieved everything he wanted to do in college — and much more than he ever could have imagined after graduation.
"I'm a teacher. I teach private voice lessons. I'm first tenor section leader with the Atlanta Gay Men's Chorus, and the lead singer of a successful band called the Social Engineers," he said.
"I've made a life out of music."
Growing up in Camden County, on the Florida-Georgia line, Johnson loved exploring different genres of music and making music with his family.
"I grew up in a musical family. My cousins and I would do a spring concert at church," he said. "At Christmas, my family would all go over to my uncle's house, sit around the piano, and sing carols together."
Johnson also thrived in his music classes at Camden County High School, where he first began considering a career in music.
"I was the president of the chorus program," he said. "As an officer, one of my duties was to run rehearsals if the teacher couldn't be there. That's when I first realized that directing a choir was something I could do. I enjoyed taking a group of people and creating something beautiful."
Around his junior year of high school, Johnson learned of Piedmont University's Music program. A Piedmont recruiter reached out to him first, and during his senior year, he met Dr. Wallace Hinson, music professor and associate dean of the School of Fine Arts.
"Everyone I met from Piedmont was so kind," he said.
Though he was afraid to leave home and his beloved beach, Johnson felt welcomed by Piedmont. Off to Northeast Georgia he went.
The move lasted longer than he expected. After earning his bachelor's degree in vocal performance and musical theater in 2014, Johnson continued at Piedmont to earn his Master of Arts in Teaching Music Education degree in 2016 and his Education Specialist degree in 2019.
In his work as a performer, private voice teacher, and music teacher at Sutton Middle School in Atlanta, Johnson draws on his Piedmont experiences daily.
He names Hinson as one of his greatest influences.
"He was an extremely meticulous choir director. He never let anything slide," he said. "He was a genius when it came to working choirs. He encouraged me to be just as meticulous."
Johnson can also still hear the voices of retired professors Joy and Phillip Hayner, reminding him to never settle for less than his best.
"They had very high expectations. They pushed me. They were hard on me, but in a good way," he said.
Now as an educator himself, Johnson encourages his own students to discover their passions — and pursue them relentlessly. His own life stands as an example of what they can achieve if they do.
"You never know what life may give you if you work hard and pursue your dreams," he said. "Never let anyone tell you that you can't."
Piedmont University's College of Fine Arts offers undergraduate and graduate degrees in art, music, and theatre.