Interested in Nursing?
Our undergraduate admissions team will contact you with more information.
Accreditation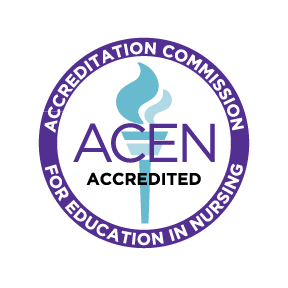 The nursing program at Piedmont University maintains accreditation from the Accreditation Commission for Education in Nursing (ACEN). The program is also approved by the Georgia Board of Nursing.
Meet the program director
QUESTIONS?
Our Undergraduate Admissions team can help!
---
Undergraduate Admissions
P: 706-776-0103
E: ugrad@piedmont.edu
Be a frontline hero.
The four-year bachelor of science in nursing degree prepares nurse generalists to work with individuals, families, and communities in a variety of health care settings. This program provides a foundation in the liberal arts and the biological, social, and behavioral sciences.
The program includes a clinical practice component that gives students the opportunity to apply their nursing theory and skills in multiple health care settings. All students have the opportunity to work with under-served populations as a part of their clinical practice.
Piedmont's R.H. Daniel School of Nursing professors are dedicated to providing an outstanding and personalized program of study that prepares you to enter the professional workforce.
The Bachelor of Science in Nursing degree may be completed in four academic years for students entering at the freshman level. All required nursing courses must be completed within four years.
Graduates of the four-year Bachelor of Science in Nursing program are eligible to take the National Council Licensure Exam for Registered Nurses (NCLEX-RN). Successful completion of this exam is required to practice as a professional registered nurse.
The Application Process
The BSN nursing program begins in the summer on both the Demorest and Athens campuses. Candidates must be 18 by August 1 in order to be considered for admission to the program. The application cycle opens on September 1.
Piedmont University offers an Early Decision option for BSN program applicants who have a cumulative 3.25 GPA, at least an 80 on the TEAS or at least an 85 on the HESI, have at least one required science, math, and English completed, and meet all other admission criteria.
The deadline for submission of all required documents for Early Decision is November 15. Applicants will be notified by December 23. If an applicant does not meet early decision criteria, the application will be evaluated during the general admission cycle.
Candidates should have a minimum 3.0 GPA and a TEAS that is competitive with the national average (the current national average is 70), or at least an 80 in each area of the HESI. Candidates must be 18 prior to starting the program in order to apply.
The deadline for submission of all required documents for general admission is April 10.
Admission is competitive and meeting application requirements does not guarantee an offer to the program. All applicants are also encouraged to apply early as the program slots may fill quickly.
1. Apply to Piedmont University. Acceptance is required in order to apply to the BSN program if not currently a student—we cannot process any application until accepted into the university. Currently Piedmont does not charge an application fee.
2. All students must have their Piedmont University student ID number in order to complete their nursing application.
3. Students admitted to the BSN program must have no more than 2 outstanding Gen Ed courses PRIOR to beginning the program. These outstanding credits may not include those in the following required areas: Sciences, Math, Statistics, Human Growth and Development, and English. Students who have not met nor are in progress to complete these requirements will not be considered. Due to the rigor of the nursing program, missing more than two general education credits is difficult to accomplish in that all general education must be completed PRIOR to Fall of the last year in the nursing program. Students who fail to complete required general education by Fall of their senior year will be delayed with their graduation.
4. Apply to the BSN program HERE when applications open each September. Currently Piedmont does not charge an application fee for the nursing program. In order to submit your application, you will need ALL of the following ready to upload. Please read these instructions carefully. Incomplete applications will NOT be reviewed. 
Complete the application in full and submit official transcripts from all colleges attended as well as any Advanced Placement (AP) exam scores to the Piedmont University admissions office. Review the website for information on pre-requisites. Due to the rigor of nursing programs, admission preference is given to applicants who will have no outstanding pre-requisite courses when the nursing program begins in May. Students who have more than two outstanding courses (other than nutrition) will not be considered. Please be thorough and accurate when entering your current Fall and proposed Spring schedules on the application. Outstanding courses may NOT include English, Science, Math, or Human Growth and Development. These courses MUST be completed PRIOR to enrollment in the May nursing program. Nutrition may be completed in the summer with first semester nursing courses. Students must successfully complete nutrition with a C or higher to progress to fall semester.  Any additional outstanding credits must be completed prior to fall of the last year of the program. Students who do not successfully complete all required pre-requisites may not meet graduation requirements. Students must maintain a GPA of 3.0 in order to progress in the program
Refer to the transfer chart for equivalent courses at another institution
Complete the TEAS or HESI exam — you can take it no more than two times per academic year and must wait 30 days between each attempt — results must be from within two academic years of application. Any TEAS scores taken within this time frame must be uploaded with your application. There are several schools with the word "Piedmont" in them. Make sure you select the correct one. Piedmont University does not offer TEAS exam testing. You may visit atitesting.com to find a location near you that will be offering the exam. Local options for TEAS testing includes UNG, UGA, Athens Technical College, Atlanta Metro State College and Georgia Gwinnett College, among others
The student should complete a 300 word or less essay. It should be typed, 12 font and double space. You will be able to upload it in your application. The essay question is: What is your philosophy of nursing and how can it have a global impact on healthcare?
Applications must be complete in order to be reviewed
5. Choose a Campus: The nursing program is consistent across both campuses with faculty involved in team teaching, clinical sites, and lab/simulation learning. Faculty travel to both campuses to deliver the program. Only the Demorest campus offers on-site housing with a meal-plan. From an accreditation standpoint, we are required to track students across the campus of admission, therefore once a student begins on a campus; it is not possible to transfer to the other site. It is important for you to indicate your campus preference on the application. If you are willing to accept placement at either campus, select that option. Applications for each campus fluctuate yearly and your chances of acceptance may be less if you are only able to choose one site. Once you accept the placement, you are committed to that campus for the duration of the program.
6.
Application Deadlines
Early decision option is available for students who meet all criteria—Deadline is November 15. If applicants do not meet the early decision criteria, their application will automatically be considered in our general admission cycle.
General admission deadline is March 12.
7. Acceptance Notification—Please note that the application process is competitive.
Early decision: Notified by December 23.
General Admission: While final admission decisions are completed in March of each year, student offer letters are sent at regular intervals following the March application deadline
Applicants offered admission will be required to accept the placement and return the $250 (non-refundable) deposit to hold their slot within a timeframe indicated in their offer letter. Failure to submit the form with the deposit will result in forfeiture of the admission offer. Students who have been accepted but notify us that they cannot deposit at this time will be moved to the wait list if requested
Students not offered a placement will be notified as to their status (declined or placed on a wait list). Should a slot open up, students on the waiting list will be notified. Please note that we DO NOT share rank order of the wait list
8. Next Steps
Accepted applicants will receive electronic documents to complete once the cohort acceptance process is completed. Deadlines and specific instructions will be included
New student information sessions are offered in April to review program requirements, curriculum, and initial orientation
Program begins Summer semester (May) each year
Program Outcomes
Summary aggregate data for our program on NCLEX performance, program completion/graduation rate, and job placement for the last three years.
| Required Program Outcome | Expected Level of Achievement | Actual Level of Achievement |
| --- | --- | --- |
| NCLEX-RN Licensure Exam First Time Pass Rate | 85% | 92.1% |
| Program Completion | 65% | 86.3% |
| Job Placement | 95% | 99.8% |
Prepare to Make a Life
What can I do with a major in NURSING?
The four-year bachelor of science degree in nursing prepares nurse generalists to work with individuals, families, and communities in a variety of health care settings.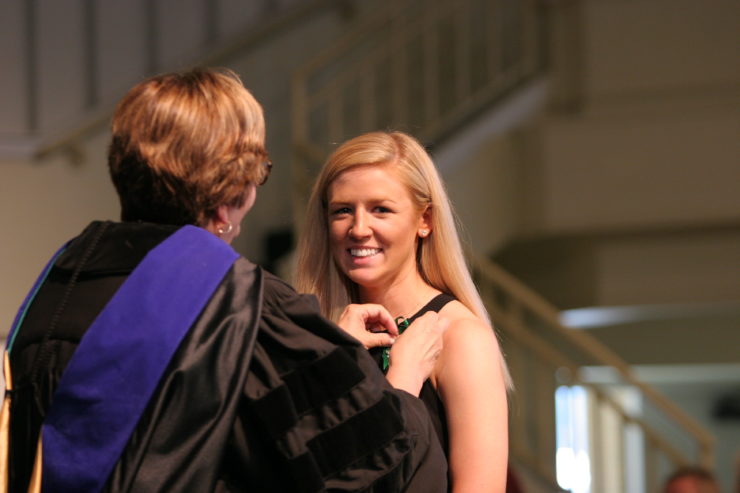 Legacy of Love
Alexandra Nicole Faerber '15 was a kind soul with a free spirit who could be tough when she needed to be. She liked to help people in need and would not abide anyone being excluded. "She didn't judge others," said her father, Craig. "She accepted people and just assumed they were(…)
Keep Reading
Related Programs
You might also be interested in one of these programs.
Health & Human Performance, MS
Reach Your Peak Potential. Piedmont Graduates in Health and Human Performance Pursue Careers in: Start Here…
Explore this Major
Health Care Administration
Prepare to Make a Life What can I do with a major inHEALTH CARE ADMINISTRATION?Piedmont students have gone on to pursue careers in: Corporate Fitness Centers Equipment Sales Insurance Wellness Facilities Recreation Centers Patient Advocacy Groups Where do I start?…
Explore this Major
Athletic Training
The only program of its kind in NCAA DIII in the Southeast, Piedmont allows students to earn an undergraduate in exercise and sports science and graduate degree in athletic training in 5 years….
Explore this Major