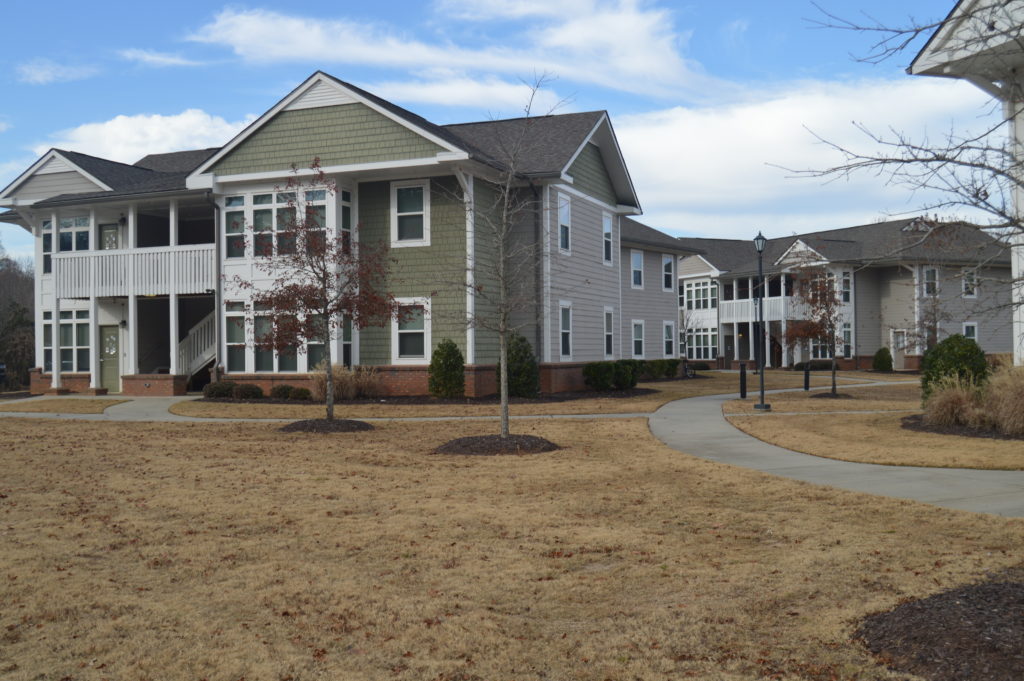 The Village is a mile off campus where students can live in an apartment like complex. Students live in a four-bedroom, two-bath apartment with a living room/ kitchenette common space. Students who are 21 and up, who request an alcohol permit through the Department of Residence Life are able to have alcohol within their apartment.
Built in 2015, Piedmont Village includes 12 buildings each with four apartments. Located within walking distance to campus, the Village is home to upper-level students with a minimum of 45 credit hours and a 2.75 grade point average.  The Village is also home to underclassmen who are older than 25 years old and graduate students.  Piedmont Village offers the greatest degree of independent living at Piedmont University with 24/7 open visitation, in-apartment cooking, and alcohol privileges for apartments housing legal age residents. The apartments include four bedrooms, two baths and a kitchen. Each common room is outfitted with a couch, two chairs, TV stand, and two side tables. The kitchen has a kitchen table and chairs, microwave, full-sized refrigerator, stovetop, sink, and washer and dryer.
One of our favorite spots to chill out on campus is the Village fire pit. You will see students coming out to roast marshmallows and hanging out. The fire pit can be reserved for events.

The Village lounge space offers students an opportunity to cook on campus. Students can come and cook with friends and roommates as well as play games or watch movies with the community tv.
Floorplan