Back to news
Piedmont University Nursing & Health Sciences Students Gain New Skills During Two-Day, On-Site FEMA Training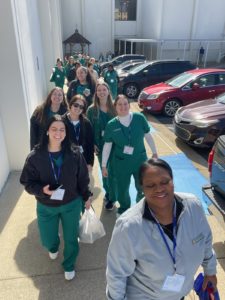 Piedmont University was one of only 14 colleges in the nation to participate in trainings hosted by the Federal Emergency Management Agency (FEMA) last month.
"Our students gained invaluable skills during this training," said Dr. Jaime Johnson-Huff, associate dean of the College of Nursing & Health Sciences, who accompanied the students to the training in Anniston, Alabama.
Seventy-nine Nursing and Health Sciences students participated in two days of training at FEMA's Center for Domestic Preparedness. The students completed two courses: Healthcare Emergency Response Operations and Emergency Medical Response Awareness. Both courses trained students to respond to chemical, biological, radiological, nuclear, and explosives incidents.
Students practiced their emerging skills in simulated emergency scenarios.
As the students collaborated with one another, they gained greater appreciation for one another's disciplines and unique skill sets, Johnson-Huff said.
"In a real-world healthcare setting, you're always going to work as part of a larger team. The better you are at being part of a team, the better the care you'll be able to provide your patients," Johnson-Huff said.
"Our students also gained a lot of confidence with triaging. In a natural disaster, that's half the battle, being able to quickly assess patients so they can get the care they need."
Students also participated providing patient care in the hospital setting while wearing full biohazard gear.
Piedmont had participated in the training for several years prior to the pandemic. Universities must meet certain criteria to take part in the training sessions.
"It was great to be back. This training teaches our students not just skills they'll use in their day-to-day, but skills they'll use in emergency situations. It teaches them to think about their communities, the world beyond themselves. That's what Piedmont's College of Nursing & Health Sciences is all about," Johnson-Huff said.
Learn more about Piedmont's College of Nursing & Health Sciences.