Back to news
Neighborhood Grant Recipient Prepares to Graduate with Accounting Degree, an Achievement She'll Dedicate to Late Parents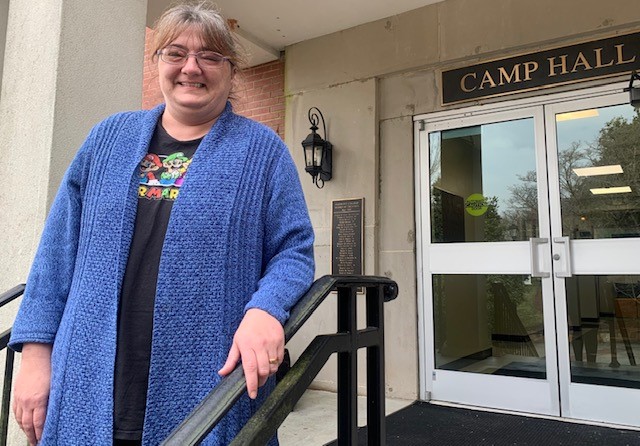 This May, at 46, Susan Chastain will finally receive her bachelor's degree in accounting. Her graduation day also happens to be the one-year anniversary of the death of her father, Gary.
"He was my biggest supporter," Chastain said. "I can't wait to look up and say, 'Dad, I did it.' I know he'll be watching."
A native of White County who graduated from White County High School, Chastain always had ambitions of continuing her education, but as her life unfolded, that goal seemed farther and farther out of reach.
She got married at 18. Went to work as a security guard, then at a couple factories, then at a gas station. She got divorced and remarried. Had two children. There were bills to pay, more immediate responsibilities to fill.
Along the way, she applied her innate math skills however she could, from doing payroll at one of her jobs to quickly calculating totals and change behind the counter at the gas station where she currently works.
"I've just always liked math. Numbers are my thing; they come naturally," Chastain said. "Math clicks for me."
While working and raising her family, Chastain found time to complete her associate degree in accounting, but most job opportunities in the field require at least a bachelor's degree. For a while longer, Chastain's aspirations of becoming an accountant would have to wait.
In 2020, thanks to Piedmont's Neighborhood Grant, Chastain finally enrolled in the Bachelor of Science in Accounting program. The Neighborhood Grant pays for half of a student's tuition if they meet certain criteria, including: The student must be at least 25 years old at the start of the semester, must be enrolled in six or more credit hours per semester, must be getting their first bachelor's degree, must be enrolled in an eligible program at the Demorest campus, and must live in one of 16 Northeast Georgia counties.
"The Neighborhood Grant was extremely critical. Without the grant, I wouldn't have been able to afford to attend school," Chastain said.
In addition to the financial assistance she received, Chastain found that Piedmont provided exactly the type of environment she needed to succeed. The small class sizes — Piedmont's student-to-faculty ratio is 12:1 — allowed her to forge relationships that sustained her during one of the most difficult times of her life: the death of her father.
"My dad got sick last year, and I knew I could go to my professors and tell them what was happening. Sometimes I had to miss class to be with him, but they didn't count that against me. They helped give me the time I needed to get everything done," she said.
"They made school feel like family."
Chastain's Piedmont professors also gave her opportunities to shine, building her confidence before she enters the accounting workforce. Specifically, she recalled that Assistant Accounting Professor Savannah Brookshire asked her to present on cost accounting at Piedmont Symposium, an annual showcase of student research and creativity.
"It meant a lot to me that she had that much faith in me," Chastain said.
As she looks ahead to graduation and beyond, Chastain plans to continue her education to earn a master's in accounting and eventually become a CPA.
"I've learned a lot about myself during my time at Piedmont. Used to be that if something got hard, I would give up. I don't give up anymore," she said.
"If I can go back in my 40s and get my degree, anyone can. It's never too late. You just have to do it."
As for her upcoming graduation day, it will be dedicated to her dad, and to her mother, Martha, who passed in 2017, Chastain said.
"I'll be shouting from the rooftops that I did it."
Learn more about Piedmont's College of Business at piedmont.edu/business.