Back to news
Piedmont University to Host Habersham Historical Society's Golden Jubilee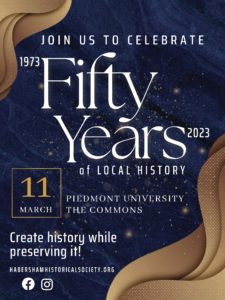 Piedmont University will host the Habersham Historical Society's 50th Year Golden Jubilee on March 11 at the Student Commons on the Demorest campus.
"The history of Piedmont University and Habersham County are inextricably linked," said Piedmont University President Marshall Criser. "We are excited to host this event, which also happens to fall within Piedmont's 125th celebration. It will be a great day for the Habersham County community to celebrate this beautiful place that we call home."
The schedule for the day includes:
11 a.m. to 4 p.m. — Exhibits, performances, and presentations. Musical artists include Jake + Grace and Kojo Abawase, as well as a featured performance by members of the Laotian community to honor local officials. Exhibitors include the cities and towns of Habersham County, Standard Telephone Company Museum, Folk Pottery Museum of Northeast Georgia, Regional African American Museum of Northeast Georgia (final showing), Habersham Chamber of Commerce, Miles Through Time Museum, and Piedmont University.
5-8 p.m. — Gala Celebration Dinner Program. This informal event will include a theatrical performance by Emory Jones, Bobby Watson and David Price titled, Zipping Through Habersham on a Goat-Powered Time Machine; a presentation by Regional African American Museum Founding Member Dr. Audrey Rosser Milo-Turner on Habersham's multicultural history; a performance by Katie Deal, an award-winning entertainer, recipient of the Georgia Country Artist of the Year Award, and a member of the Atlanta Country Music Hall of Fame; additional performances by The Country River Band and Kurt Johnston. President Criser will deliver opening remarks at the gala.
To attend the gala, register at habershamcountyhistorical50.com. Those attending the daytime jubilee are encouraged to bring their Habersham photos and share the histories of their towns, businesses, and families.
For more information, visit habershamcountyhistorical50.com.