Back to news
Northeast Georgian Covers Piedmont Women's Swimming Conference Title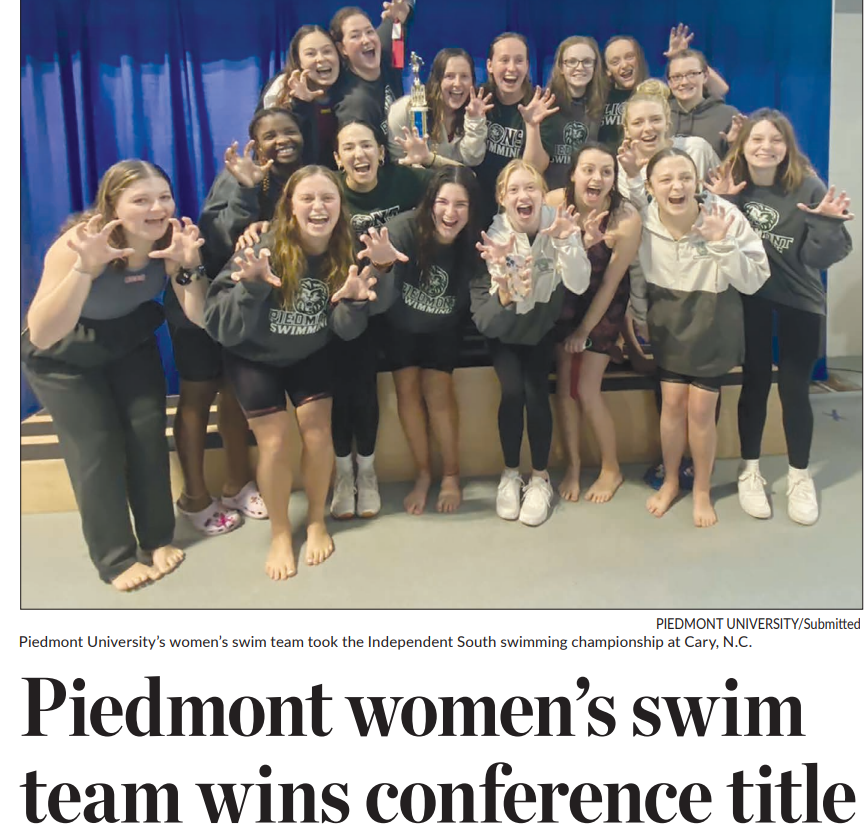 This story appeared in the March 3 edition of The Northeast Georgian:
The Piedmont University women's swim team won the Independent South Swimming Conference
Championship on Saturday, as head coach Teddy Guyer was named conference Coach of the Year. The Lady Lions also broke a pair of conference records at the meet in addition to 12 school records.

The first conference record fell on day two as Madison Nance shattered the 400-yard IM time, swimming a 5:05.13 which was over 13 seconds faster than the previous record.

Carolina Massaro then broke the second conference record on day three, swimming a 2:12.82 in the 200-
yard backstroke. Her first-place time broke the previous conference record by just .30 seconds. Teammate
Gwyneth Thomas finished directly behind her in second (2:22.19).

Lauren Stone grabbed second place in the 1,650 yard freestyle with a 19:55.45, followed directly by Maggie Bishop (21:24.75) in third place.

In the 200-yard breaststroke, Nance picked up a big second-place finish for the Lady Lions, turning in
a time of 2:42.08 while fellow Lady Lion Avonlea Kirby finished in third (2:48.29).

Olivia Betchel secured second place in the 200-yard butterfly with a 2:38.38, narrowly out touching
teammate Lizzie Arrendale (2:39.90).

Tressie Polk finished in fourth (2:40.88), just a mere .98 seconds behind Arrendale.

Rounding out the meet and further solidifying the win for Piedmont, Nance, Massaro, Jenise Wraithe and
Stone placed second in the 400-yard medley relay with a final time of
3:55.28.