Back to news
Soon-to-Be Piedmont University Athletic Training Grad Hired by One of Nation's Most Recognized Medical Schools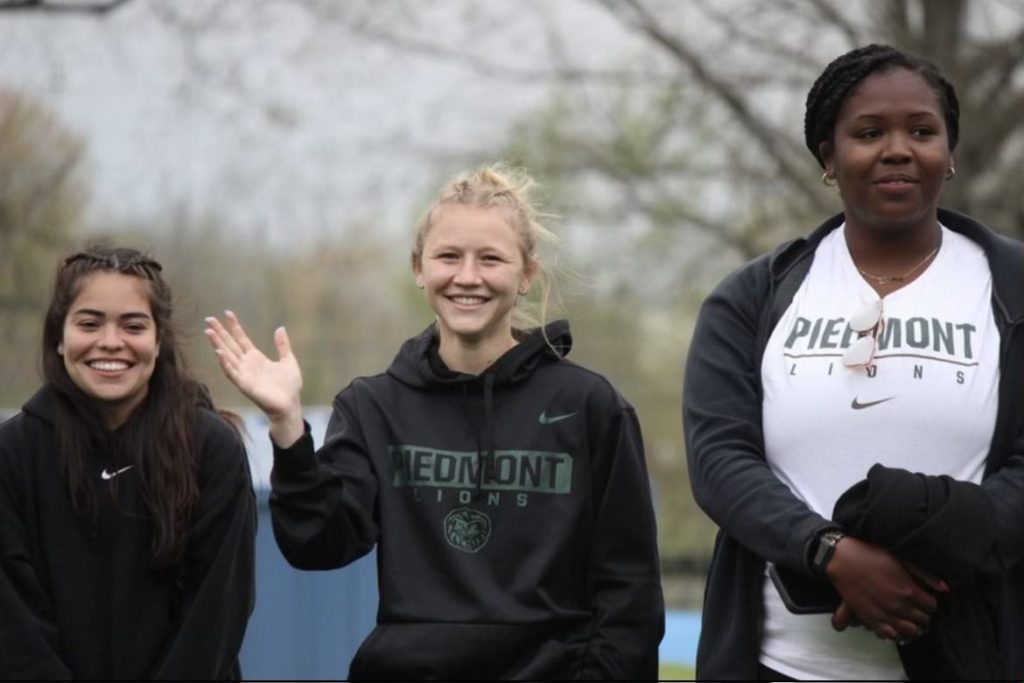 She doesn't graduate until May, but Madison Cassidy, a student in Piedmont University's 3+2 Athletic Training program — the only program of its kind in the NCAA Division III Southeast — already has a job waiting for her.
Earlier this month, Cassidy accepted a full-time athletic training position with the Tulane Institute of Sports Medicine.
"It's really exciting. This is my dream starting position," Cassidy said.
A native of California, Cassidy decided to become an athletic trainer while in the seventh grade.
"I was always involved in sports, but every time I went to rehab, I would have to re-explain my injury," Cassidy said.
"I want to have a relationship with the athletes I help, to build trust and a bond with them."
Cassidy selected Piedmont University for its small class sizes, track and field program, and its accelerated path to a master's degree in Athletic Training. The 3+2 in Athletic Training allows students to earn their Bachelor of Science in Exercise and Sports Science and Master of Science in Athletic Training in just five years. Normally, it would take at least six years to earn the two degrees. Students are able to use their NCAA eligibility during the entire 3+2 program.
In addition to earning their degrees, 3+2 Athletic Training students receive preparation for three certification exams: the Board of Certification, Certified Health Education Specialist exam, and Certified Strength and Conditioning Specialist.
Cassidy's education positioned her as the top candidate when she applied to the Tulane Institute of Sports Medicine. The Tulane Institute of Sports Medicine is part of the Tulane University School of Medicine, one of the oldest and most recognized medical schools in the nation.
"Madison stood out to me due to her positive attitude and depth of knowledge in athletic training and athletics," said Patrick Maloney, lead athletic trainer at the Tulane Institute of Sports Medicine.
"Being a former collegiate athlete gives her an advantage in working with athletes, having been one herself at a high level. Her knowledge and understanding of anatomy, physiology, the injury cascade, and the emotional-social components of injury set her apart. The opportunity Piedmont University gave her to compete for the track and field team while pursuing her athletic training degree makes her a valued candidate and future employee."
The Tulane Institute of Sports Medicine's athletic trainer outreach program services high schools in the metro New Orleans area. Cassidy starts will be providing athletic trainer services to Archbishop Chapelle High School.
"Athletic trainers provide vital services to the secondary school setting, including emergency acute management of injuries, evaluation, and referral to the appropriate providers, rehabilitation of athletic injuries from initial injury to return to play, concussion evaluation and management, and prevention of athletic injuries," Maloney said.
"Madison will also have the opportunity to work hand-in-hand with our orthopedic surgeons in the clinical setting and the operating room."
With her first job secured, all Cassidy has to do is finish her final classes at Piedmont University — and plan her move to New Orleans.
"I can't wait. I get to live in a new place and work with an amazing team," she said.
Learn more about Piedmont University's 3+2 degree in Athletic Training.