Back to news
Piedmont University Homecoming is Oct. 22; Schedule Includes Music, Food Vendors, a Theatrical Production, and More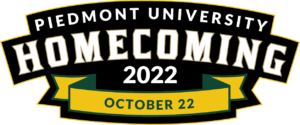 Piedmont University will celebrate Homecoming with a full day of fun events on Oct. 22.
"This is going to be a great day for Piedmont alumni, students, employees, supporters, and members of the community. We've lined up an exciting schedule of events, with something for everyone. It's going to be a great chance to see old friends, make new ones, and celebrate the university's 125th anniversary," said Vice President for University Advancement Craig Rogers.
All events, unless otherwise noted, are free to attend. Registration is requested for most events.
For a full schedule of events and more information, visit piedmont.edu/homecoming.
The schedule for the day includes:
9 a.m. – Welcome Breakfast
Parents, new students and alumni are welcome to join the Alumni Association for a continental breakfast in the Sewell Atrium.
10 a.m. — Annual Open Alumni Association Board Meeting & Alumni Plaza Groundbreaking Ceremony
Meet the Piedmont University Alumni Association Board of Directors at Sewell Atrium and hear what they are doing to help today's students. The meeting will conclude with a groundbreaking ceremony at Alumni Plaza. The Alumni Plaza will be constructed on the quad at the center of the Demorest campus. Alumni Plaza enlarges the alumni park and congregational circle completed in 1997 for the university's centennial. When complete, Alumni Plaza will consist of a fountain, raised gardens, and sitting areas. Bricks that will be used in the construction of the project are available for purchase and can be inscribed with a message of the purchaser's choice. To purchase a brick, visit https://alumni.piedmont.edu/g/tribute-pavers. Read more about the project.
11:30 a.m. — Alumni Awards & Sports Hall of Fame Induction Luncheon
This annual event celebrates the achievements of Piedmont University graduates who've gone on to become leaders of their professions and communities. This event will take place in Conference Room C in the Student Commons building. Registration is required. Tickets are $15 per person.
12 p.m. and 4 p.m. — Piedmont's volleyball team takes on Covenant College. The games will be played in the Mize Center.
2 p.m. – Class Reunions & Affinity Group Reunions
Classes of 1972, 1982, 1997, 2002, 2012 and 2017 are welcome to convene with classmates in Conference Room C in the Student Commons building. This is a drop-in event with complimentary snacks and beverages for class reunion participants. Torch Society members will also be meeting in Conference Room B and are welcome to partake in refreshments.
3:30-6:30 p.m. — Homecoming Celebration
Local bluegrass musicians Debbielee and Joe Welchel will be kicking off the festivities at the Arrendale Amphitheater at 3:30 p.m. The Shoal Creek Bluegrass Band will be the headlining musical entertainment. Food vendors will include Chick-fil-A, Cowboy Bob's, Chad's Barbeque, Georgia Concessions and Subway. Temperance Public House will be selling beer and wine (must be 21+ with a valid ID).
7:30-9:30 p.m. — Peter and the Starcatcher
Students will perform the Tony Award-winning play featuring everyone's favorite forever boy, Peter Pan. The performance will take place at the Swanson Center. General admission is $10 for adults, $5 for seniors and students. Admission is free for Piedmont employees and students. Tickets may be purchased online at piedmont.edu/tickets or reserved by calling the box office at 706-778-8500 x1355. Read more about the production.