Back to news
Piedmont University Presents 'Peter and the Starcatcher' Oct. 20-23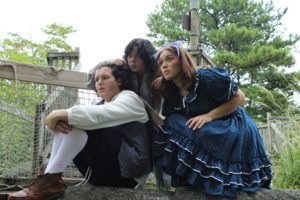 Piedmont University Theatre's 2022-23 mainstage season kicks off with Peter and the Starcatcher Oct. 20-23.
Based on the 2004 novel by Dave Berry and Ridley Pearson, Peter and the Starcatcher features everyone's favorite forever boy, Peter Pan, and explores themes such as greed, despair, friendship, duty, and even love.
The play begins with a young nameless orphan boy being shipped off from Victorian England with his mates, Ted and Prentiss. The boys are unaware of the mysterious trunk in the captain's cabin, which contains an otherworldly substance. At sea, the boys are joined by the young Molly Aster, who finds out that the mysterious trunk holds Starstuff, the fairy dust that lets people fly. When the ship is then taken over by Black Stache and his band of pirates seeking treasure, chaos ensues.
"Whether you are 22 or 82, Peter and the Starcatcher will help you remember what it is to believe in the magic of the stars," said Theatre Department Chair Kathy Blandin.
Associate Theatre Professor John Spiegel is the director, while students Violet Clements (Elberton, Georgia) and Sierra Maxwell (Monroe, Georgia) are stage manager and assistant director, respectively.
Joining Clements are students Jo Wolfe (Hartwell, Georgia) and Jazz Mote (Dawsonville, Georgia), assistant stage manager and deck manager, respectively. Spiegel will also design the set, lighting, and sound, while the costume design will be done by student Mary Gaines (Elberton, Georgia).
Cast members include:
Boy, Gabe Richman (Dallas, Georgia)
Molly Aster, Dakota Rose Chen (Bogart, Georgia)
Prentiss, Carly Jelinek (Kingsland, Georgia)
Ted, Dominic Fox (Dahlonega, Georgia)
Black Stache, Hunter Reum (Naples, Florida)
Smee, Carson Letner (Dallas, Georgia)
Mrs. Bumbrake, Dante Wilson (Gainesville, Georgia)
Lord Leonard Aster, Clayton Maddox (Monroe, Georgia)
Bill Slank, Sof Delgado (Orlando, Florida)
Captain Robert Falcon Scott, Tucker Cochran (Tucker, Georgia)
Alf, Kasey Jenkins (Winder, Georgia)
Grempkin, Ethan Spinks (Kingsland, Georgia)
Sanchez/Mack, Haylie Collins (Grayson, Georgia)
Fighting Prawn, Athena Lux (Oakwood, Georgia)
Hawking Clam, Tyler Pellegrino (Kingsland, Georgia)
Teacher, Lexie Partain (Elberton, Georgia)
Peter and the Starcatcher will be performed at 7:30 p.m. Oct. 20-22 and at 2 p.m. on Oct. 23. All shows will take place at the Swanson Center on Piedmont's Demorest campus, 1021 Central Ave.
General admission is $10 for adults, $5 for seniors and students. Admission is free for Piedmont University faculty, staff and students. Tickets may be purchased online at piedmont.edu/tickets. Tickets may be reserved by calling the box office at 706-778-8500 x 1355.
Learn more about Piedmont's Fine Arts events and programs at piedmont.edu/fa.