Back to news
Piedmont University Art Alumna Is New Manager of Mark of the Potter, Georgia's Oldest Craft Shop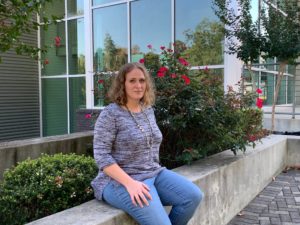 Piedmont University alumna Joyce Lewallen is the new manager Mark of the Potter, the oldest craft shop in Georgia.
It's a position that perfectly blends her passion for art, the education she received at Piedmont, and the life experience she's had since graduating in 2012.
"There's a Japanese concept called ikigai. When you find the intersection of what you love, what you're good at, what the world needs, and what you can be paid for — that intersection is ikigai, or the key to living a meaningful life," said Lewallen, who started her new position on Sept. 25.
"For me, this position is a step closer to ikigai."
Growing up in North Carolina, Lewallen loved to create. She recalls getting in trouble on more than one occasion for coloring on walls — and other forbidden surfaces.
"I have a son, Jacob, who is two years younger than Joyce," said Lewallen's mother, Pam Williams, an administrator in Piedmont's Facilities Management department.
"When she was a toddler, Joyce took her markers and went in there and colored all over the new dresser I'd bought to put next to Jacob's crib, and she wrote 'Jacob,' on it too. When I asked her why she'd done it, she said it was Jacob. She said, 'Look, he even wrote his name.'"
The years passed, Lewallen's passion for art endured, and in Piedmont, she found exactly what she was needed: space to grow as an artist, as well as a person.
"I did it all while I was here at Piedmont — painting, drawing, ceramics. I learned how to communicate and persevere. I learned how to solve problems. I remember once that we made paint brushes using our own hair. We learned how to get things done in unconventional ways. Those are invaluable skills," she said.
In 2012, Lewallen graduated with her Bachelor of Fine Arts. In the years since, she's worked a variety of jobs to provide for her family, from managing a coffee shop to performing background checks for a local police department.
All the while, she stayed involved in the art world.
"I made hand-painted signs for wedding proposals, baked cakes, took photos. I was kind of like a handyman for art," she said.
"You have to do art consistently, otherwise you get rusty."
In her new position at Mark of the Potter, located in Clarkesville, Lewallen will draw on her passion, education, and experience to lead a team of potters and sales associates, manage payroll and inventory, and help carry out the owners' vision.
It's a job she feels uniquely prepared to do.
"I believe everything happens for a reason," she said. "Everything comes together."
Learn more about Piedmont University's Fine Arts events and academic programs at piedmont.edu/fa.