Back to news
Bekah James Enjoying 'Dream' Jobs in Theatre Tech After Graduation
It's a good thing Bekah James didn't make the East Paulding High School volleyball team, or she might never have had the dream jobs she's landed since graduating from Piedmont in 2019.
James's current role as entertainment supervisor for Six Flags Over Georgia is one of those jobs. She always wanted to play a role in theme park entertainment for Halloween, her favorite holiday.
"I am loving every minute of it. When I am not supervising characters, I am helping set up the park for Fright Fest. I'm putting the finishing touches on the haunted houses, helping cook prosthetics in the makeup room, and helping style wigs for our performance of Dead Man's Party (a song and dance show)," she said.
James was ready for the role. As a Piedmont University student, she helped make The Invisible Man disappear.
"That show made me realize I wanted to be a stage manager. Once I got into the rhythm of the job, I never wanted to stop," James said. "We had so many moving parts: magic, lighting, a million props — not to mention making an actor disappear on stage. It was an amazing show I hold near and dear to my heart."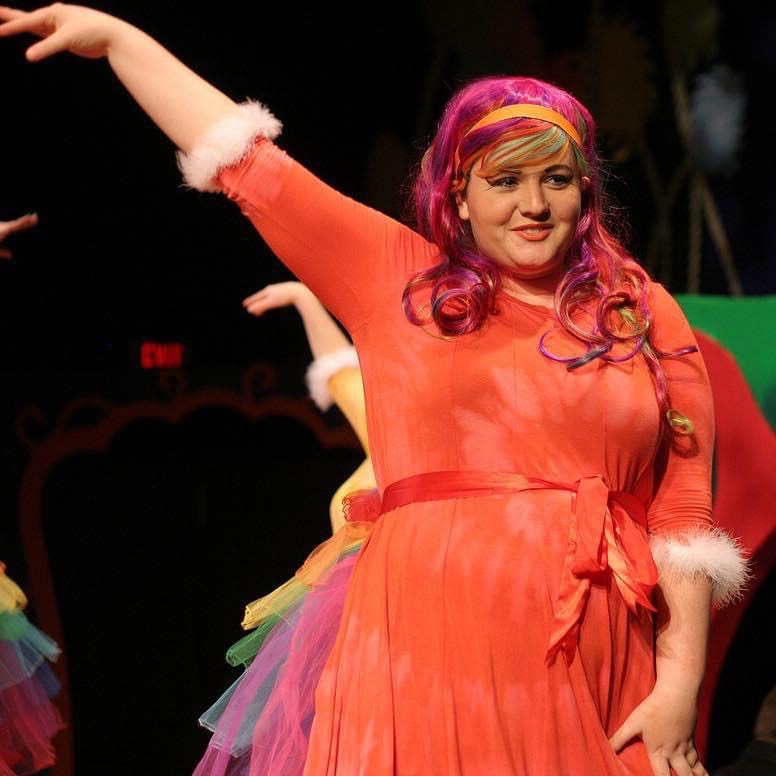 As a double-major student in Theatre Arts and Technical Theatre, James was part of many productions at Piedmont, including And In This Corner, Cassius Clay; When She Had Wings; and Chicago. One of the most valuable lessons she learned was time management.
"Being in theatre in college can be time-consuming. On top of homework, you also have rehearsal for multiple shows at a time, as well as in-class directing or design projects," James said. "Going through that for four years teaches you discipline. I am more grateful for that skill every day. As simple as it is, it changes how I live my life."
When she didn't make the high school volleyball team after training all summer, James was crushed. The replacement extracurricular she chose, Theatre Fundamentals, took her on a new path. Then a teacher asked if she wanted to audition for a musical.
"I'd never thought about auditioning before, but then I thought, 'Why not?' I went to the audition and was cast in the ensemble," she said. "I never went to another volleyball tryout."
Meeting Theatre Professor Bill Gabelhausen helped seal her decision to attend Piedmont University.
"He welcomed me with open arms and made me feel like Piedmont was my home in just a few short hours," she said. "I am forever grateful to him."
Associate Theatre Professor Kathy Blandin holds a special place in James's heart, too, because she took James "under her wing and stuck by me the whole four years of my college career."
"She always believed in me and my capabilities, and if not for her, I wouldn't be the person I am today," James said.
After The Invisible Man, James changed her major from Musical Theatre and never looked back. Now, she would tell students considering a career in theatre to go for it.
"If this is your dream, do not let anyone get in your way," she said. "You will find where you belong, and all of the hard work will be worth it."
For more information about Piedmont's degrees in Theatre Arts, visit piedmont.edu/theatre-arts.