Back to news
Support of Piedmont Theatre Professors 'Catapulted' Belle Hudson to the U.K.
For Belle Hudson, who had lived in small Georgia towns her whole life, traveling to London, England, and living there for almost a year was an "enriching, amazing, eye-opening experience." Hudson would not have believed it was even possible two years ago. Still, there she was, studying theatre and working toward a master's degree in applied theatre at Goldsmiths, University of London. She had achieved a bachelor's degree in theatre education in 2021 in just three years at Piedmont before leaving for the United Kingdom.
"I went from living in Demorest in May to living in one of the biggest, fastest, most expensive cities in the world in August. Every street you walk down, you will hear a dozen accents and then a dozen more different languages," Hudson said. "I worked part-time at an Italian restaurant. My coworkers were Italian, French, British, and German. I even picked up a few Italian phrases."
Hudson also used her time to explore Europe with trips to Scotland, France, Spain, Italy, and Greece.
"This was my first time traveling solo, and it was such a beautiful experience," Hudson said. "I made so many friends, ate way too much food, and saw so many breathtaking views."
It was a long way from Carrollton, Georgia, where Hudson went to high school. She knew back then that she wanted to become a drama teacher. She had to choose between the two colleges in Georgia offering a theatre education major: Columbus State University, which was her first choice, and Piedmont.
Then Hudson attended Piedmont's Fine Arts College Experience (FACE). During the immersive event, faculty evaluate prospective students' fine arts work (singing/music/art) for scholarship opportunities. The high school students also stay overnight on campus with current fine arts majors studying in their areas of interest. Hudson was sold and chose Piedmont.
Associate Theatre Professor Dr. Kathy Blandin and Theatre Professor Bill Gabelhausen became mentors to Hudson. Blandin introduced her to creative drama (using drama-based instruction in any area), which led her to applied theatre. Blandin helped Hudson with lesson planning, student teaching, and graduate school applications.
Gabelhausen, Hudson said, "is someone you can't help but admire. He's selfless, kind, and someone I am blessed to have worked with." She remembers telling Gabelhausen about her acceptance to Goldsmiths.
"I still think about the moment," Hudson said. "The hug we shared is how I define unending support and love. The Piedmont theatre students are lucky to have the professors they have rooting for them."
Hudson's goal is "to uplift young people using the art of theatre, whatever that looks like." She fulfills that dream today by teaching drama at Carver Middle School in Griffin, Georgia. She is in love with the job.
"Even when I have a million things to do, I can always depend on my students to make me smile," Hudson said. "The theatre program I am running is fairly new; it is only two years old, so with the pandemic, this is the first year the students are able to really jump into theatre. I have big plans."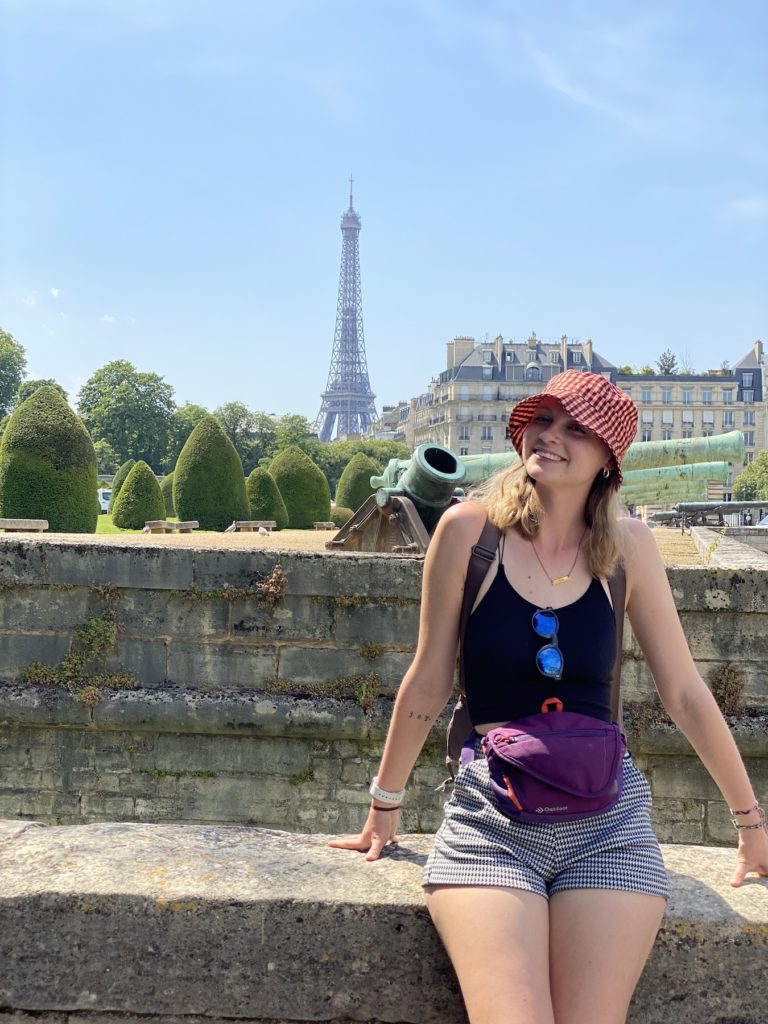 Hudson's big plans won't stop there. She ponders that maybe one day she will "pioneer a state initiative in Georgia to increase arts integration across all subjects using the arts as a teaching tool all around Georgia. Who knows?"
Wherever her dreams take her, Hudson will take along her memories of Piedmont and its professors. They have been guides and models for her and helped her achieve things she hadn't thought possible.
"Piedmont may be a small university, but people like Bill and Kathy have such big hearts. I am very ambitious and strong-willed, but their support catapulted me all the way over to the U.K.," Hudson said. "Thank you, Bill and Kathy, for showing me what a true educator should be. I am the teacher I am because I had amazing people teaching me."