Back to news
Piedmont Reception Celebrates Life, and Final Exhibition, of Famed Artist Art Rosenbaum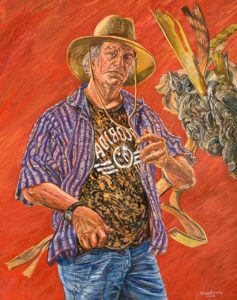 Piedmont University's Mason-Scharfenstein Museum of Art will celebrate its current exhibition, a collection of work by celebrated Athens-based artist Art Rosenbaum, who recently passed away, with a reception on Oct. 6 from 5-7 p.m.
Born in upstate New York in 1938, Rosenbaum was an artist, folklorist, and teacher. He died in early September, just a few days after his exhibition opened at the MSMA.
"We are showing work by Art from 1969 to the present. His oil paintings are big — and beautiful to see in person. Sadly, he passed during our exhibition. We join the many artists and community members mourning his loss. I hope visitors will come because they knew Art or because they want to learn more about him," said Rebecca Brantley, assistant professor of art and director of the MSMA.
Rosenbaum lived in the historic West Village of Manhattan in the 1960s. He studied art history and painting at Columbia University. He was part of the generation that re-introduced figuration and narrative into postwar art. Rosenbaum also hosted a radio show during his years at Columbia. Bob Dylan was a regular listener and colleague.

Rosenbaum lived and worked in Athens, Georgia, from the late 1970s until his death. A professor at the University of Georgia, Rosenbaum mentored numerous creative luminaries that have emerged from Athens, including Michael Stipe of the band REM. The Atlanta Journal-Constitution reported that Rosenbaum's final piece was a portrait of Stipe.

Rosenbaum's style revealed his deep engagement with art history, ranging from Italian mannerism to American regionalism. He found inspiration in early 20th-century expressionism — especially the work of Belgian James Ensor. While much of his source material came from day-to-day life, Rosenbaum also drew from his travels through Europe, India, and Latin America. Many of his projects involved his wife, painter and photographer Margo Newmark Rosenbaum.
Rosenbaum was named the first Wheatley Professor in Fine Arts Emeritus at the Lamar Dodd School of Art at the University of Georgia. In 2003, he received the prestigious Governor of Georgia's Award in the Humanities. His collection of folk music, "The Art of Field Recording Volumes I: 50 Years of Traditional American Music Documented by Art Rosenbaum," won a Grammy for Best Historical Album in 2008. Rosenbaum's work is part of many private and public collections, including the Smithsonian National Museum of American Art, the New Orleans Museum of Art, and the Georgia Museum of Art.

"Art made a significant contribution to Northeast Georgia — and the nation. He was a talented painter, documentarian, teacher, and musician. He's probably the only artist we've featured who also won a Grammy," Brantley said.

"I hope visitors will gain a deeper appreciation for Art's many interests, multiple talents, and significant impact on the community. I hope they learn more about his early work, the influence of his music, and his years in Athens. For those who knew him, I hope it's a celebration of his life and work."

The MSMA is located at 567 Georgia Street in Demorest. It is open from noon to 5 p.m., Tuesday-Saturday.

The reception and admission to the museum are free. The Rosenbaum exhibition will be in place through Oct. 13.
For more information about Piedmont's Fine Arts programs and events, visit piedmont.edu/fa.