Back to news
Piedmont University Partners with Clarke County School District to Address Need for Teachers
Dozens of Clarke County School District employees visited Piedmont University's Athens campus on Wednesday morning to learn about their options for earning their bachelor's degrees and becoming teachers.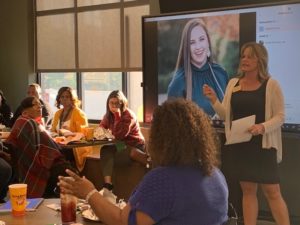 Like school districts across the nation, CCSD has a persistent need for teachers. To build its teacher pipeline, CCSD is encouraging paraprofessionals, as well as other non-certificated employees, to complete their bachelor's degrees and obtain their teaching certificates.
"Our paraprofessionals and other members of our support staff know our students, love our students, and invest in our students every day. They invest in our students, and we want to invest in them," said CCSD's Chief Human Resources Officer Dr. Selena Blankenship, who attended Wednesday's event.
Piedmont University is an ideal partner in helping paraprofessionals transition into teaching positions.
"Piedmont is very accommodating and offers a lot of options for individuals who want to pursue a degree. Piedmont looks at the individual needs and designs its programs to address those needs."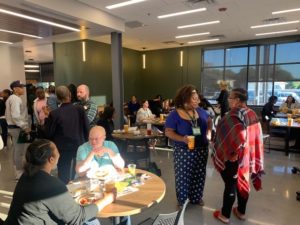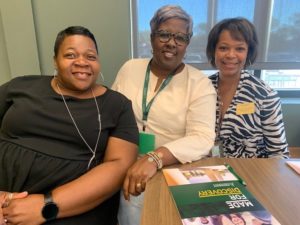 Among the attendees of Wednesday's breakfast was Serita Hillman, a paraprofessional at Timothy Road Elementary School. Hillman currently holds an associate degree in early childhood education.
"One of my coworkers kept going on and on about how great Piedmont is, so I decided to come and check it out," she said. "It seems very flexible, and everyone seems very helpful."
Hillman's colleague, Tamala Baker, also a paraprofessional at Timothy Road Elementary, has attended seven Piedmont University graduation ceremonies to see co-workers receive their degrees.
"My dream has always been to get my bachelor's degree," she said. "For a lot of my friends, Piedmont was the road they took to their degrees. I've always been the cheerleader. It's my turn to graduate."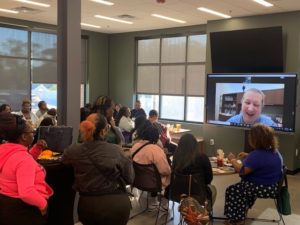 During the event, Associate Director of Undergraduate Admissions Michelle McSwain shared with attendees that she knows well the struggles that come with balancing work and education.
"I went back to school in my 40s," she said. "We are here to help you every step of the way."
Piedmont University offers bachelor's, master's, specialist and doctoral degrees in education in online, in-person and hybrid formats. Learn more about the College of Education at piedmont.edu/academics/education.