Back to news
Internationally Acclaimed Organist Maurice Clerc to Perform at Piedmont on Oct. 16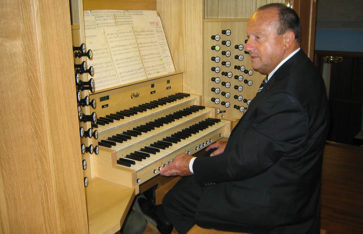 Piedmont University will host internationally acclaimed organist Maurice Clerc for a concert on Oct. 16 at 4 p.m. at the Chapel on the Demorest campus, 1021 Central Avenue.
Clerc has performed around the world during his more than 40-year career, playing at such prestigious venues as Notre-Dame Cathedral in Paris, Saint Mark's Basilica in Venice, and Saint Patrick's Cathedral in New York. He is the emeritus organist of the Cathedral of Dijon in Dijon, France.
"We are honored to have such an amazing talent as Maurice Clerc perform here at Piedmont. We are proud to give our community the opportunity to enjoy an internationally acclaimed artist," said Dr. Wallace Hinson, director of the Conservatory of Music and Associate Dean of the School of Fine Arts and Communications.
Clerc will present a concert of organ music on Piedmont's Sewell Organ.
The concert is free and open to the public.
For more information on events at Piedmont University, visit piedmont.edu/events.