Back to news
Piedmont University Unveils Student-Designed T-shirt to Commemorate 125th Anniversary
Just in time for its Homecoming celebration, Piedmont University has unveiled a student-designed T-shirt commemorating the institution's 125th anniversary.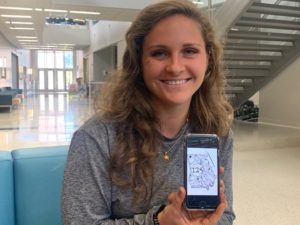 Jordan Adams, a senior pursuing her bachelor's degree in art education, was the winner of the T-shirt design competition organized by the university's 125th anniversary committee.
"I was very surprised to win, but it's very exciting," said Adams, who will graduate in May.
In designing the shirt, Adams wanted to ensure that every member of the Piedmont community could see themselves reflected in the final version. She began with the outline of the state of Georgia, then filled the interior with a collage that of objects representing every facet of the university — paintbrushes for art, the Piedmont Lion logo for athletics, a microscope and test tubes for the sciences, trees for the outdoors students of all majors have enjoyed throughout Piedmont's history, as just a few examples. The T-shirt also includes the university's 125th logo, a requirement of the design contest.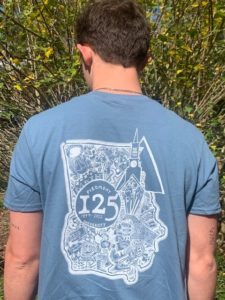 "I wanted to make sure that everyone feels included, that when they put on the shirt, they can say 'I'm a part of Piedmont,'" said Adams, who drew the design by hand.
Adams currently lives in Toccoa but spent much of her life in Indonesia, where her parents work as missionaries. After she graduates, she plans to return to Indonesia to work as a teacher.
In addition to Adams, students Arly Lerma and Sarah Bittner also submitted designs to the T-shirt design contest. Members of the 125th anniversary committee selected the winning submission.
The 125th T-shirt will be available for sale at Homecoming, which takes place Saturday, Oct. 22, at the Demorest campus, and is also available at Lions Share Annual Support Campaign – Piedmont University Alumni and Friends. The cost for the shirt is $20. Proceeds benefit the university's Lion's Share campaign, which supports programs, facility upgrades, and student scholarships.