Back to news
Piedmont University Receives $10,000 Gift Toward Construction of Fountain Project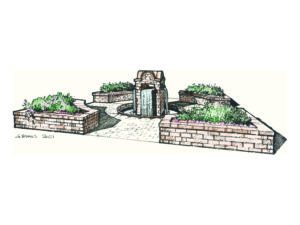 Piedmont University has received a third gift toward the construction of a new gathering space on the university's Demorest campus.
To provide current students with a place to socialize and relax, and to celebrate its alumni, Piedmont University plans to construct a fountain surrounded by raised gardens on the quad at the center of the Demorest campus.
The project — which has not been formally named — was designed by architect M. Garland Reynolds Jr., president of Gainesville-based Reynolds Architects. M. Garland Reynolds Jr. has designed numerous projects across the state, including hotels, theaters, museums, and retail centers. He also designed two Piedmont University dormitories: New Bedford and Plymouth.
M. Garland Reynolds' sister, Jane Reynolds Hemmer, a former state senator, and her husband, John, recently donated $10,000 toward the project. The gift was made in honor of their mother, Julia May Rochester Reynolds, a 1931 Piedmont University graduate.
Rochester Reynolds passed away when Reynolds Hemmer was only 6 years old.
"From what I remember about her, and from what others told me while I was growing up, my mother valued education very much. She was proud of her education and her Piedmont degree, and it was important to her that her children also be educated. I thought this would be such a nice way to honor her, to have her name on a project designed by Garland on the campus of her alma mater," she said.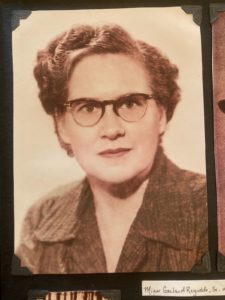 M. Garland Reynolds Jr. was in high school when his mother passed away. He also remembers her Piedmont pride.
"She worked her way through Piedmont by working in a sewing factory. Then she became a schoolteacher," he said.
When designing the project, which he refers to as the Spring House, M. Garland Reynolds Jr. aimed to create a place that would both recognize the accomplishments of Piedmont alumni and inspire currently enrolled students.
"So many graduates have sprung from Piedmont. This is where they got their start, where they were challenged to go out into the world and become successful," he said.
"The centerpiece of the project is the spring house. Water pours out from all four sides of the top, representing the four reaches of the world.
"I think people will love the space, sitting there and listening to the water."
Jane Reynolds Hemmer said she hopes students will use the space to reflect on the importance of education.
"Education is the road to a better world for all of us," she said. "My mother firmly believed that, and she stressed the importance of access to education. My hope is that all young people will have the ability to experience higher education."
Piedmont President James F. Mellichamp expressed his gratitude for M. Garland Reynolds' design and Jane Reynolds Hemmer's contribution:
"Piedmont envisioned a beautiful, inviting, restful place for our students that would also serve as a tribute to alumni. The design is stunning, and with this gift, we are closer to making it a reality on campus. We are most grateful," he said.
Piedmont University has raised $35,000 toward construction of the project, which enlarges upon the alumni park and congregational circle completed in 1997 for the university's centennial. Construction is expected to begin in the next six months. The project is expected to be complete by late 2022, coinciding with the university's 125th anniversary.
Bricks that will be used in the construction of the project are available for purchase and can be inscribed with a message of the purchaser's choice.
To make a donation, contact Vice President of University Advancement Craig Rogers at crogers@piedmont.edu. To purchase a brick, visit https://alumni.piedmont.edu/g/tribute-pavers.