Back to news
Piedmont Nursing Students Land Summer Externships at Cleveland Clinic, Johns Hopkins, Georgetown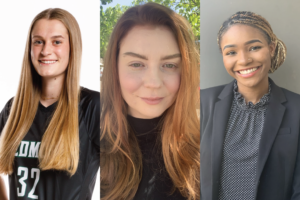 Three Piedmont University Nursing students have secured summer externships at some of the nation's most prestigious hospitals.
Externships are training programs that nursing students complete between their third and fourth years of study. Students apply and must be accepted to externship programs.
This year's summer externships include: Abigail Judge, Cleveland Clinic; Summer Plachinski, Johns Hopkins Hospital; Kylie Turner, MedStar Georgetown University Hospital
"We have a strong reputation for having students accepted to externships across the state and southeast, but this year was exceptionally strong," said Dean of Nursing and Health Sciences Dr. Julia Behr.
"The R.H. Daniel School of Nursing is making our presence known at these major healthcare institutions. We are incredibly proud of all our summer externs."
Judge will complete her externship in the heart and lung transplant unit at Cleveland Clinic. U.S. News & World Report ranked Cleveland Clinic as the No. 1 hospital in heart care, and the No. 2 hospital overall in 2021-22.
Judge, a native of Dayton, Ohio, who selected Piedmont for its nursing and soccer programs, eventually plans to become a nurse anesthetist. Her externship will be valuable experience for working with critically ill patients. Her placement in the heart and lung transplant unit also carries personal significance as her aunt is fighting lung cancer.
During her externship, Plachinski, a native of Fernandina Beach, Florida, will train in multiple areas of Johns Hopkins Hospital, including the adult intensive care unit, emergency department, and pediatrics. It's a perfect fit because she hasn't yet decided on a nursing specialty.
Turner, a native of Atlanta, will train in the emergency department at MedStar Georgetown University Hospital. MedStar Georgetown is one of Washington, D.C.'s oldest teaching hospitals.
Turner currently works as a technician in the emergency department at Northside Duluth, and she is excited to continue building her skills in emergency medicine.
Judge, Plachinski, and Turner are each looking forward to representing Piedmont during their externships. As Plachinski put it:
"Piedmont has an awesome program, and I'm happy to represent the school in a big way," she said. "I'll be happy to take my Piedmont pride to Baltimore and let everyone know that Piedmont has given me the education to be able to work there."
Learn more about Piedmont's Nursing program at piedmont.edu/nursing.