Back to news
Piedmont University's Camerata to Perform Wide-Ranging Works by Female Composers During May 22 Event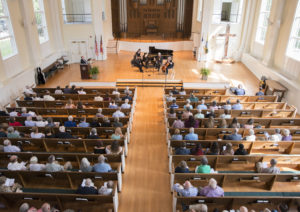 Piedmont University's artists-in-residence chamber ensemble, Piedmont Camerata, will present a free concert at 4 p.m. on May 22 at the Chapel on the Demorest campus.
"We are especially excited about this program as it celebrates the work of women composers from the 19th, 20th, and 21st centuries," said Dr. Jeri-Mae Astolfi, pianist and artist-in-residence.
"The chamber music presented in this program represents a wide variety of styles within the classical music genre."
The performance will feature compositions by Clara Schumann, Amy Beach, Mel Bonis, Grażyna Bacewicz, Adela Maddison, and Jessie Montgomery.
"The program balances well-known works with lesser known but captivating works, along with a more recent work, Jessie Montgomery's showstopper, Strum, for string quartet. The work's title refers to the guitar-like plucking of the strings that plays many roles: floating hum, earthy groove, and rapturous thrum," Astolfi said.
In addition to Astolfi, Piedmont Camerata includes Heather Baird-Strachan, violin; Rachael Fischer, violin; Scott Garrett, viola; and Ismail Akbar, cello.
The Chapel, adjacent to the Conservatory of Music, is located at 922 Central Ave. in Demorest. Learn more about Piedmont's Fine Arts programs and events at piedmont.edu/fa.