Back to news
Four-Time Piedmont College of Education Alumna Will 'Advocate for Teachers, Kids' as Long as She Can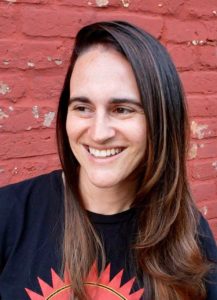 Four-time Piedmont alumna Alexandria Jackson-Noggle is completing her first year as assistant principal of Baldwin Elementary. It's a position she achieved by advancing her education and one that has afforded her new opportunities to do what she loves most: advocate for students and teachers.
"I will stay here and work for these teachers and these kids as long as they will let me," she said. "I believe in them, and it is my honor to serve them every day."
A native of Habersham County, Jackson-Noggle never envisioned she would become a school administrator. In fact, there was a time when she didn't see herself working in education at all.
"I originally planned to be an accountant, but I really had no idea what I wanted to do with my life," she said.
After one semester of college, Jackson-Noggle dropped out and worked retail jobs. It was during dinner at a local Wendy's, of all places, that the path she was searching for finally presented itself.
"I was helping my brother with his homework, and this woman walked by and asked me what I was going to do for my career. She said, 'You should really be a teacher because you are doing a fantastic job,'" Jackson-Noggle said.
"I don't know who she was, but I never forgot what she said."
A few months later, Jackson-Noggle enrolled at Piedmont, declaring education as her major.
She went on to earn her Bachelor of Arts in Elementary Education, Master of Arts in Elementary Education, Education Specialist in Curriculum & Instruction, and last December, her Doctor of Education.
While steadily adding degrees to her resume, Jackson-Noggle gained on-the-job experience, teaching various grade levels and content areas at Cornelia Elementary, Hazel Grove Elementary, and for the last 12 years, Baldwin Elementary.
"I never saw myself leaving the classroom. That's my favorite place to be," Jackson-Noggle said.
After nearly two decades in the classroom, however, Jackson-Noggle did decide to leave, though she didn't go far.
"The position of instructional coach here at Baldwin became available. It was a chance to have a bigger impact on the school, by supporting both the teachers and their students," she said.
As an instructional coach, Jackson-Noggle helped students prepare for county spelling bees and writing competitions, provided resources and training to teachers, gave small-group and individual instruction to students needing extra help, and communicated with parents — among many other things.
"What I was most proud of is the relationships I built with the teachers," she said.
"I worked to build an environment where teachers know they can trust the instructional coach, that the instructional coach is someone they can bounce ideas off of and go to if they need a resource. They came to see the instructional coach as someone they could lean on — that was the biggest thing."
Her work as a coach — and the schoolwide impact she was able to make in that position —inspired Jackson-Noggle to take the next step, becoming assistant principal last fall.
In her new role, Jackson-Noggle's duties vary widely, but ultimately, she works with students, parents, and teachers to create a positive learning environment. This may mean helping teachers create lesson plans, resolving discipline issues, or covering a class while the teacher meets with parents.
Whatever her school needs, Jackson-Noggle is ready and willing to give it.
"I fell in love with this school from the very first day," Jackson-Noggle said.
"The students want to learn. Their effort is so high. They want to be successful. The parents trust us wholeheartedly. I'll give this school everything I can."
In return, Jackson-Noggle often receives dandelions — the students pick them for her almost daily — but the true reward is knowing she's making a difference.
"I support students and teachers, and I make sure their voices are heard," Jackson-Noggle said.
Jackson-Noggle's contributions and dedication to the school make a difference every day, said Principal Rodney Long.
"Dr. Noggle is very discerning, innovative, positive, flexible, and has the ability to quickly see the big picture," he said.
"She moves seamlessly from task to task without getting weighed down with the negatives that come with this position. She truly cares and displays a tremendous amount of empathy."
Learn more about Piedmont's College of Education at piedmont.edu/academics/education.