Back to news
Piedmont University Graduations Are May 6; Former First Lady Sandra Deal to Receive Honorary Degree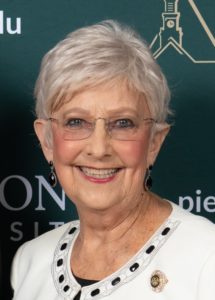 Nearly 400 students will graduate from Piedmont University on May 6, during ceremonies that will include the conferring of an honorary degree on former First Lady of Georgia Sandra Deal and remarks by Metro Atlanta Chamber President and Chief Executive Officer Katie Kirkpatrick.
"We could not be prouder of our graduates. We look forward to celebrating with them and their families, and officially welcoming them into the Piedmont University alumni family," said President James F. Mellichamp.
"To the members of the Class of 2022, congratulations and well done."
Here is a closer look at the spring 2022 graduating class:
The class includes 381 graduates.
Graduates represent 11 states, including Alabama, California, Colorado, Florida, Georgia, Indiana, North Carolina, South Carolina, Tennessee, Texas, and Virginia.
Degrees being conferred include the Bachelor of Arts, Bachelor of Fine Arts, Bachelor of Science, Bachelor of Science in Nursing, Master of Arts, Master of Business Administration, Master of Science, Master of Arts in Teaching, Education Specialist, and Doctor of Education.
Deal will receive an honorary Doctor of Education degree in recognition of her many years of service to education. Deal taught in Georgia public schools for 15 years. During her role as First Lady, from 2011 to 2019, she read to students in each of the state's 159 counties, visiting more than 1,000 schools to promote literacy and student achievement. She is the mother of a Piedmont alumna and a member of the university's Board of Trustees.
"Mrs. Deal has dedicated her life to serving others, particularly students. Her work both in the classroom and as an advocate for education is nothing short of inspiring. We are thrilled to have the chance to celebrate her contributions and to give her a forum for addressing our graduates," Mellichamp said.
Deal will accept her degree during the undergraduate ceremony at 1:30 p.m. on May 6. Deal said she will use her remarks to encourage the graduates to help others achieve their own educational goals.
"I want to encourage them to help make education possible for other people and to never stop improving their own education," she said. "I believe in being a lifelong learner."
Kirkpatrick joined the Atlanta Metro Chamber in 2007 and held numerous roles before taking the helm of the organization. She will speak at the graduate ceremony at 10:30 a.m. on May 6.
Both ceremonies will take place at the Johnny Mize Athletic Center & Museum on Piedmont's Demorest campus. Tickets are required to attend. Ceremonies will also be livestreamed. For more information, visit piedmont.edu/academics/commencement.