Back to news
Salon Owner and Real Estate Broker: 'My Piedmont MBA Opened a Lot of Doors for Me'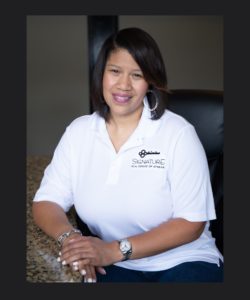 With her Master of Business Administration from Piedmont University, Barbara Sheats is managing a family business that's long been a staple of the Athens community, while also forging her own path in the real estate industry.
"My Piedmont education is helping me in both businesses," Sheats said. "It's opened my eyes to a lot of new possibilities."
A native of Athens who earned her undergraduate degree from the University of Georgia, Sheats learned about Piedmont's MBA program in the early 2000s.
"It was attractive because it was only 18 months and the Athens campus at the time was very close to my family's business, Sheats Barber and Beauty Shop," Sheats said.
She enrolled and quickly built meaningful relationships with members of the faculty.
"I had many wonderful professors that taught me to be more organized and analytical," she said. "I still use many of the things I learned in my MBA program in my day-to-day- business."
Sheats graduated in 2003. Fifteen years ago, she went into real estate. She is now the broker at Signature Real Estate of Athens, a residential and commercial real estate firm.
"I love helping clients find houses that are within their price range and that they can envision as their homes," she said. "It's a great feeling."
Growing up, Sheats watched her father, Herman, work as the owner of Sheats Barber & Beauty Shop, which opened its doors 61 years ago. Through the decades, the business has become a favorite of area residents and students, many of whom come back for a trim years after they've left Athens.
"We are blessed to have seen so many people come through our business," Sheats said. "There's never been a year when we don't see people come back. We have football players who've go on to play professionally come back, and we have celebrity clientele. We have fathers and sons, mothers and daughters. Every day is like a homecoming."
Running the family business was never Sheats' plan, but when her father became ill, she took on more responsibility, and when he passed away in 2020, she stepped into his role.
"It means the world to me to be able to continue this business for our community — and for him," she said.
Her MBA prepared Sheats to not only manage the family business but also make changes to keep up with the times. She attends trade shows regularly and has introduced new products and tools to ensure Sheats Barber & Beauty remains competitive.
She's also worked to grow Signature Real Estate into one of the few firms in the area that sells new construction homes, as well as existing.
"Whether it's on the salon side or on the real estate side of my life, my MBA has opened a lot of doors for me," she said.
Piedmont University now offers a completely online MBA. Learn more at Master of Business Administration | Piedmont University.