Back to news
Piedmont's First Communication Sciences and Disorders Students Conducting Research with Potentially Far-Reaching Impacts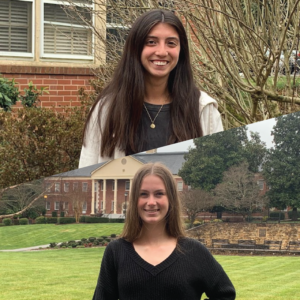 Piedmont University's Communication Sciences and Disorders program has been in place less than a year, but already its students are contributing research that will help shape the future of the profession.
Next week, at the Piedmont Symposium, the university's annual showcase of academic research and creative inquiry, two Communication Sciences and Disorders students will present research that has potentially far-reaching impacts, said Program Director Dr. Monica Bellon-Harn.
"The research these students are doing is truly outstanding and far beyond what you would expect at the undergraduate level," Bellon-Harn said.
"They're demonstrating that they have strong critical-thinking and problem-solving skills. They're going to be more competitive when applying to graduate programs, and ultimately, their research will improve the care they deliver in clinical settings, because they're developing the skills needed to identify problems, think deeply, and work for solutions."
Both of the students, Jaycie Ponce and Emma Williams, plan to earn advanced degrees in Communication Sciences and Disorders and eventually work as speech-language pathologists, a profession that involves assessing, diagnosing, treating, and helping to prevent communication and swallowing disorders.
Here is a look at their research projects:
Cleft Lip and/or Palate: Content and Quality of YouTube Videos
Ponce watched a family friend struggle to learn how to care for her son, who was born with a cleft palate, which served as the inspiration for her project, Cleft Lip and/or Palate: Content and Quality of YouTube Videos.
"Many times, parents are turning to the internet before consulting specialists or doctors. There are a lot of videos out there about swallowing and feeding, but cleft lips and palates also affect speech, hearing, and language, and there just aren't that many resources out there," said Ponce, a native of Hoschton, Georgia.
Ponce's project aims to evaluate the content and quality of online information currently available and ultimately develop resources that speech-language pathologists can include during family counseling.
"It's important for us to know what information is out there for our patients, to know what they already know, so we can combat any misinformation they may be getting online," Ponce said.
Ponce said her project has given her a "first taste of how impactful research can be."
"This is the first step toward a capstone or a master's project," she said. "It's made me better understand the hardships that parents of children with cleft lips and palates go through and how we can help them."
Ponce plans to continue at Piedmont to earn her master's degree in Communication Sciences and Disorders and one day earn a doctorate.
Social Justice Curriculum for Communication Sciences & Disorders
Williams has always felt passionately about social justice issues, and through her work with Bellon-Harn, she's found a way to apply that interest in a way that will make a real difference for patients.
Her project, titled Social Justice Curriculum for Communication Sciences & Disorders, aims to define social justice and prepare aspiring clinicians to deliver more equitable care. The finished product will be an online course for undergraduate students.
"The only way to change a culture and a profession is through education, by teaching the up-and-coming members of the profession. That's what my project is focused on doing," she said.
Williams, a native of Cumming, Georgia, provided the following example of how social inequities negatively affect patients:
"For instance, someone who speaks African-American English is more likely to be misdiagnosed as having a speech disorder when really it's just a dialect. That individual may be pulled out of regular classes and receive services for something that's not a problem at all; that can be very damaging," she said.
Williams has spent the last several months studying the World Health Organization's social determinants of health and interviewing members of Piedmont's faculty to begin building a framework for what exactly constitutes social justice. The next phase of her project will be to create learning modules that apply social justice concepts to speech pathology.
"The goal is to get people thinking so that we can start to be accountable for the issues in our field and deliver more equitable care," she said.
Williams will graduate with her Bachelor of Science degree in 2024. She plans to continue her education and one day work as a clinician in a hospital setting.
Piedmont University currently offers a Bachelor of Science in Communication Sciences and Disorders and is developing a Master of Science program. Learn more at piedmont.edu/program/communication-sciences-disorders.