Back to news
MBA Alumna Is First Director of Engagement & African American Heritage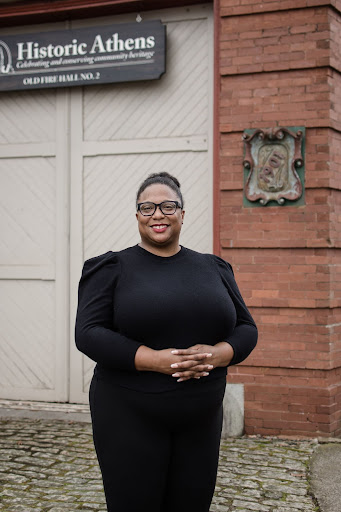 Piedmont University Master of Business Administration alumna Hope Iglehart has been named Historic Athens' first director of engagement and African American heritage, a position in which she'll continue doing what she loves most: discovering and sharing stories from Athens' rich past.
Historic Athens announced Iglehart's position in January. Historic Athens is a nonprofit organization that celebrates and conserves Athens' community heritage.
"It is an honor to hold this position, a first for Historic Athens," Iglehart said. "I grew up surrounded by the history of Athens. Now, I make it my work to share that history with others, to create a sense of place, ownership, and pride in our community."
Iglehart's position represents the coming together of her childhood experiences, her lifelong interests in history, her family's deep roots in Athens, her previous professional experiences, and the preparation she received at Piedmont.
"I didn't realize it, but as a child, I was living Athens' history," Iglehart said.
Iglehart grew up in Athens' Reese Street community and spent much of her time at the home of her neighbor, Maude Morton, daughter of Monroe Bowers "Pink" Morton, builder, owner, and operator of the Morton Building and founder of the Morton Theatre. Maude Morton died in 1987.
"My mom used to send me over to her house to do little odds and ends, just help her around the house. She also taught me to play checkers," Iglehart said.
"Ms. Morton's dad was a significant person in Athens's history. I didn't realize how special it was at the time to be able to spend time with her."
Iglehart also grew up hearing stories about the community from her mother, a doctor at the Athens Neighborhood Health Center, her grandmother, one of the first educators to teach at an integrated Oglethorpe Elementary School, and her grandfather, John T. Hurley, a skilled businessman who founded the family business, Hurley Funeral Home. Through the funeral home, where she eventually worked as a funeral director, Iglehart got to know Athens and its residents even more intimately.
"I also spent a lot of time as a child watching PBS history documentaries and reading history books that my mom would buy me," Iglehart said.
"The past always felt very alive to me. I always wanted to learn more."
Iglehart earned a bachelor's degree in English from Bennett College in Greensboro, North Carolina. In the years that followed, she held a number of positions in higher education and nonprofit administration, while always advocating for her community. She was instrumental in the Reese Street community receiving its local historic designation. She has also served with numerous local organizations.
In 2015, she earned her MBA from Piedmont.
In her new position, Iglehart manages public programming, community engagement, and preservation planning, ensuring increased attention to — and impact on — African American cultural heritage and preservation.
In all her work, she aims for the same result.
"You can see the changes happening in people as they learn about their community. Many times, they've lived their whole lives in Athens but never knew about the historically significant people and places we're able to teach them about. It awakens something in them, and it creates a better sense of community for all," she said.
Her Piedmont MBA helped prepare her for exactly this moment in her life.
"My MBA opened doors for me to be able to teach. Literally right after I got my MBA, I started teaching at Athens Technical College, teaching success skills, and working with University of Georgia athletes as a learning specialist," she said.
"Then I moved into teaching business management classes. Now, I'm teaching the community and curating opportunities for members of our community to learn about Athens, the city that I love."
Learn more about Piedmont's MBA at piedmont.edu/mba.