Back to news
Piedmont University to Host Classical Music Concert, Photography Exhibition on Feb. 24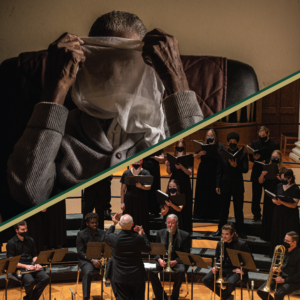 Piedmont University will host a pair of exciting arts events — its Great Composers Concert Series and an exhibit featuring Atlanta-based photographer Chris Aluka Berry — on Feb. 24.
At 7:30 p.m. at the Chapel on the Demorest campus, Piedmont's choirs, orchestra and soloists will present the latest installment of the Great Composers Concert Series, Austrian Masters, during which they will perform Josef Haydn's Symphony No. 2, Mozart's Symphony No. 29, and Franz Schubert's Mass in G.
Dr. C. Wallace Hinson, director of Piedmont's Conservatory of Music and associate dean of the School of Fine Arts, will conduct the performance.
"The audience will hear works that are at the core of the classical music repertoire. All three works on the program were written when the composers were relatively young," Hinson said.
"The audience will get to 'see' into the mind of the youthful composers and perhaps make a connection to their more mature — and possibly better known — works."
Hinson added:
"After two years, we are finally able to perform great works with orchestra. We were just about to perform Beethoven's Ninth Symphony when the pandemic struck in March 2020. The choir and the players are eager to perform again, and I know the audience is ready to hear the orchestra again."
Just across the street from the Chapel, a reception for Berry's exhibition, titled Affrilachia: The Remnant that Remains, will take place at the Mason-Scharfenstein Museum of Art, 567 Georgia St., from 5 to 7 p.m.
Berry is a South Carolina native who now lives in Atlanta. He has worked as a photojournalist for more than 20 years. He is a regular contributor to Thompson Reuters News Agency. His work has appeared in Time and The New York Times, among other publications. His corporate clients have included Tyler Perry Studios, Amazon, and Delta Airlines. He also teaches photography at Pace Academy.
"Chris Aluka Berry's exhibition will include photographs taken over the last six years from his travels through Southern Appalachia. Expect to see images of individuals, parties, funerals, and more. There will be documentary photographs of historic sites that include one of the last camp-meeting sites organized by Black worshippers in Georgia, the Rock Springs Camp Meeting site, and a self-sufficient Black community founded in the mid-nineteenth century in Cherokee County, North Carolina, called Texana," said Rebecca Brantley, assistant professor of art and director of the Mason-Scharfenstein Museum of Art.
"I hope visitors will gain a greater knowledge of our region's rich history. Berry's photographs of Appalachia go beyond stereotypes and offer up a poignant and more diverse representation. Some offer glimpses into disappearing communities rooted in a deeper history. For example, the image of William 'Tank' Coward shows a man walking through a cemetery in Sylva, North Carolina. He's the last surviving member of a once-thriving African American community who lived there."
Aluka Berry's exhibition will be in place Feb. 24-March 24. Museum hours are 12 to 5 p.m., Tuesday-Saturday.
The concert, the reception, and the exhibition are all free and open to the public. Face coverings and social distancing will be required.
For more information on Piedmont's fine arts programs and events, visit piedmont.edu/fa.