Back to news
MBA Graduate Uses Degree to 'Change Lives'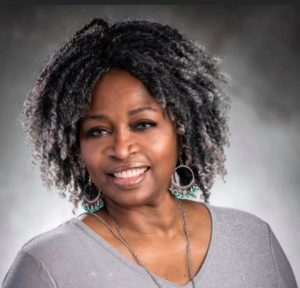 Marchelle Massey Sandoval was 60 years old when she earned her Master of Business Administration from Piedmont University.
Now she uses her degree — and the long, winding path she took to earn it — to help others achieve their own educational goals, regardless of their age, past, or personal circumstances.
"My work is a ministry. I change lives, one person at a time," said Sandoval, transition specialist and interim director of adult education at Athens Technical College.
"I know what it's like to keep hitting that brick wall when you don't have a degree."
A native of Cleveland, Sandoval's parents always emphasized the importance of reading. She devoured books, enjoyed learning, and envisioned herself one day becoming college graduate. But at 17, she became pregnant with her first child, and everything changed.
"Back then, if you became pregnant, you had to go to an adult education school. It was full of grownups. I didn't like it, so I stopped going and began to work," she said.
Over the next decade or so, Sandoval worked in factories, as a bus driver, at a post office, and at a bank, among other jobs.
"My parents had always told me if I could read, I could do anything," she said. "That's how I learned to do the jobs I had. That's how I got through life."
As she neared 30, she became a paint inspector for a property management company. That job became the start of a successful career in property management that culminated with her overseeing a 640-unit public housing complex — the same complex where she'd been born.
In 2004, she married her husband, the Rev. Lamar Sandoval, whom she describes as her "biggest cheerleader," and moved from Ohio to Athens, Georgia. With her extensive resume in property management, she expected that she would find work easily, but that wasn't the case.
"Everywhere I applied, they wanted to see my GED or my high school diploma," she said. "I didn't have either."
To break through the educational barrier, she enrolled in a GED program at Athens Technical College.
"When I graduated in May 2005, I was 50 years old," she said. "I thought that was it, but then I received a $500 HOPE GED voucher to continue my education. That voucher changed my life."
Over the next decade, Sandoval earned associate degrees in marketing and general business from Athens Technical College, then her Bachelor of Business Administration and her MBA from Piedmont University.
"I graduated with my MBA in 2015, 10 years almost to the day after I received my GED," she said.
As she plugged away, class by class, her life changed dramatically.
Her father died. She cared for her elderly mother until she passed away as well. Then she lost her brother. She settled into life as a wife. She and her husband raised a son and two grandchildren.
Through it all, she never gave up on her education.
"There were many times when I wanted to quit, but I was afraid to stop. No matter how hard it got, I didn't stop because I was afraid that I'd never start again," she said.
Her own educational journey eventually led her to the work she does helping adult education students successfully transition to degree programs or the workforce. On any given day, she may help students with the admissions process or provide them with the encouragement they need to keep going.
She uses much of what she learned at Piedmont in her day-to-day work. She'll never forget a study-abroad trip she took to Europe and Sunday afternoons spent reviewing class material with Walker College of Business Dean Dr. Kerry Waller.
"I told him I could meet him after church, and he would make that work," Sandoval said.
Sandoval also particularly appreciated lessons gleaned from a class about the Civil Rights Movement taught by former President Ray Cleere.
"That was one of my most fulfilling classes. He was from that era, and he shared his experiences," she said. "He really helped us to understand that we can't judge people by what we see. We never know what they had to overcome to get where they are."
Sandoval uses that perspective — and her own story — to connect and make a difference for the students at Athens Technical College.
"When I was a property manager, people used to say to me, 'You don't know how it is. You're not from the projects,' but that's where I was born. I knew exactly what it was like. It's the same in what I do now. I've been there. I know the struggle adult students face. I was there, trying to balance work, a family, and college. I was the one older than everyone else in my class once too," she said.
"I tell them my story to help them see they can do it. I'll never forget one day when I was walking across campus and this girl walked by me, stopped and said, 'It's you.' She told me that my story is why she was in college. That brought tears to my eyes."
Her advice to anyone who thinks it's too late for them to go back to school:
"Time is going to go by anyway. Five years from now, you could either be doing it or you could be exactly where you are today. You have to step out in faith."
Learn more about Piedmont's Walker College of Business at piedmont.edu/academics/business.