Back to news
Piedmont Student Completing His Degree While Traveling the Country Making Monster Jam Videos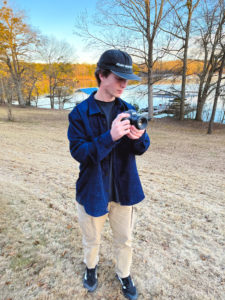 Still months from graduation, Piedmont University student Tyler Goins is already traveling the country, creating professional videos to promote Monster Jam, the popular motorsports event.
"This job seemed so far out of my hands, like a big jump for me," said Goins. "I didn't think someone my age could be doing this, but I am."
Growing up in Locust Grove, Georgia, Goins developed an interest in film production in high school. The hit Netflix science-fiction series Stranger Things was partly filmed near his home, in Jackson, Georgia. Goins would get as close to the filming locations as possible, just to see how the lighting was rigged or the cameras were angled.
"I also love watching movies," Goins said. "When I had to decide what to do after high school, I decided to do something I like."
Goins is now majoring in mass communications, with a concentration in film production. He is on track to graduate this fall.
Earlier this year, Goins began working for Monster Jam, which is owned by Florida-based Feld Entertainment. As part of his new job, Goins spends several days of the week traveling to various Monster Jam venues to film promotional videos featuring the drivers and vehicles. An example of Goins's work can be found here: https://m.youtube.com/watch?v=UDcUhY48gxs&feature=youtu.be
Since starting his position, Goins has been dispatched to St. Louis, Minnesota, and San Diego — to name just a few destinations.
Goins said he is thankful for the support of a few key faculty members — including Melissa Jackson, associate professor of mass communications, Dale Van Cantfort, professor of mass communications, and Dr. Melissa Tingle, assistant professor of mass communications and associate dean of the College of Arts & Sciences — as he's learned to balance his coursework with the demands of his job.
"Without them, I couldn't do this," Goins said.
"My professors have told me they'll do everything they can to help me, and it's true."
While on the job, Goins has used many of the skills he's learned at Piedmont, including how to properly use a green screen. He's also gained valuable real-world experience that will prepare him for whatever career moves might come next.
"I've learned a lot about directing people, from the drivers to the fans," Goins said. "I've gotten better at telling them what to do to make the video look good."
What's most exciting, Goins said, is that his job with Monster Jam positions him well for his dream job:
"Ultimately, I want work for Supercross," he said. "I love dirt bikes."
Piedmont University is launching a bachelor's degree in Film Production that will launch in fall 2022. The program will prepare students for jobs in the film industry, which ranks second only to agriculture as Georgia's top industry. For more information, visit piedmont.edu/program/film-production.