Back to news
Meet the Social Team: Practicum Students to Provide Inside Look at Piedmont Experience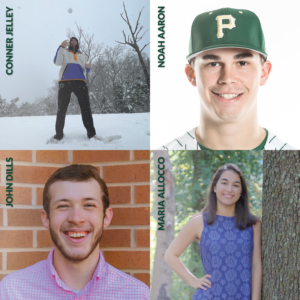 Piedmont University students will be sharing an inside look at their experiences during the spring semester.
Students Noah Aaron, Maria Allocco, and John Dills are majoring in mass communications. Conner Jelley is majoring in sports communications. This semester, they are completing a practicum; a practicum is a one-credit-hour course that allows students to gain hands-on experience in their field. The students are completing their practicum by working with the university's Marketing & Communications department. Their professor for the practicum is Dr. Melissa Tingle, associate dean of the College of Arts & Sciences and co-chair of the Department of Mass Communications.
The students' first assignment: Create a series of day-in-the-life videos to tell the real story of what it's like to be a Piedmont University student.
"We're excited to be working with the students to share the stories that only students can tell," said Director of Marketing & Communications Rachel Pleasant.
"Only our students can tell us where they like to spend their time, who on campus has made their experience special, what current and future Piedmont students need to know. The students are going to provide us with new perspectives on Piedmont, and we can't wait to see their stories unfold."
The practicum team includes:
Maria Allocco, a native of Maryville, Tennessee. After graduation this May, Allocco plans to intern with ESPN3. She previously interned at The University of Tennessee with Vol for Life Films. "Through my videos, I hope that my followers feel a sense of what it's like to call Piedmont home," she said.
Noah Aaron, a native of Newnan, Georgia. Aaron will also graduate in May. He plans to eventually become an airline pilot. During his practicum, he "plans to share the realistic view of what life is like as a Piedmont student," he said.
John Dills, a native of Rabun Gap, Georgia. After he graduates in May, he plans to pursue a career in broadcast journalism. "I'm going to share my experience of being at Piedmont University and what it is like to be a full-time student. I hope to gain more knowledge of how to professionally run a social media account," he said.
Conner Jelley, of Monrovia, Indiana. Jelley will also graduate in May. He plans to become a baseball coach and handle his team's social media one day. "I'm going to give an overall view of what life on campus is like for a student-athlete on a daily basis and give some insight to make time here more enjoyable. I hope to improve my skills in storytelling with video."
The students' videos will be posted throughout the spring semester to Piedmont University's official social media accounts: @PiedmontU on Facebook, @PiedmontUniversity on Instagram, @PiedmontGA on Twitter, and @piedmontuniversity on TikTok.