Back to news
Piedmont University Students to Perform The Three Musketeers Feb. 17-20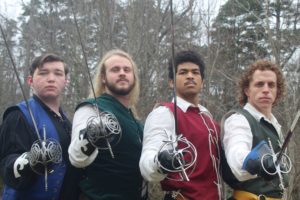 Piedmont University will present The Three Musketeers beginning Feb. 17.
Adapted by renowned playwright Ken Ludwig, The Three Musketeers is a hilarious take on a swashbuckling classic. Originally penned as a novel by Alexandre Dumas, who was also famous for The Count of Monte Cristo and other works of adventure and mischief, the play follows a brother and sister who set off to Paris in search of adventure.
D'Artagnan, played by Garrett Smith, wishes to join the King's Musketeers, while Sabine, portrayed by Lexie Partain, who was destined for convent school, realizes that she would much rather fight by her brother's side. It is adventure they seek and adventure they get as the duo meets a trio, the eponymous three Musketeers, and swaggering antics, action, and plenty of swordplay ensue in this tale about heroism, doing the right thing, and above all, honor.
Ken Ludwig's The Three Musketeers has been lauded by critics as "the best adaptation of the novel ever written" and will come to life on stage under the direction of John F. Spiegel, with assistance from Jonathan Furlow, assistant director, and Sof Delgado, stage manager. The play will also feature 17th– century costumes and sound designed by Spiegel with the assistance of Dominic Fox. The swordplay will occur under the careful eye of Fight Captain Jordan Hicks. Updated with a fresh comedic take, this classic story will leave audiences with a new idea of what it means to be a hero.
Cast members with the character each portrays include:
Garrett Smith — D'Artagnan
Lexie Partain — Sabine
Tucker Cochran — Father, Treville, Guard
Jordan Hicks — Richelieu
Hunter Reum — Aramis
Carson Letner — Porthos
Seven Goodwyn — Athos
Carly Jelinek — Rochefort
Clayton Maddox — Ravanche, Fache
Kerstin Landry — Milady
Violet Clements — Adele, Mother Superior
Maddie Speas — Elise, Stanley
Haylie Collins — Constance
Dante Wilson — King Louis
Megan Zimmerman — Queen Anne
Tyler Pellegrino — Guard
Jo Wolfe — Guard
Ian Williams — Buckingham, Guard
Sierra Maxwell — Sister, Abbess, Septime
Attendees will undergo a temperature check and will be required to wear a face covering and maintain social distancing. Hand sanitizer stations will be available.
The Three Musketeers will be performed Feb. 17-19 at 7:30 p.m. and Feb. 20 at 2 p.m. in the Swanson Center Mainstage Theatre, located on Piedmont's Demorest campus, 1021 Central Ave.
General Admission is $10 for adults, $5 for seniors and students; Piedmont University faculty, staff and students are free. Call the Box Office at 706-778-8500 x1355 to purchase tickets.
Learn more about Piedmont's Fine Arts events and programs at piedmont.edu/fa.