Back to news
Piedmont Student Makes Advocating for Disabled Persons His Life's Work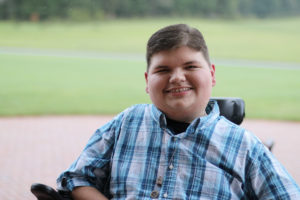 Piedmont University junior Caden Nelms calls himself "The Wheelchair Dude Who Fights for Accessibility," because that's exactly what he aspires to do — both as a student and long after he graduates.
"Not everyone with a disability can or wants to advocate, which is fine," he said. "I get that, but I make it my job."
Nelms decided to make advocacy his life's work after a lifetime of struggles related to his own disability.
Growing up, Nelms remembers the awkwardness of having his classmates watch as a paraprofessional put a cushion under his wheelchair so he could reach the lunch table. Going to the restroom was an ordeal, and sometimes an embarrassing one, all through public school.
His classmates saw the outward physical challenges, but even more difficult was the internal struggle Nelms faced every day on his own.
"I felt thrown aside to a certain extent. I still wanted to be involved in the activities. From a very young age, I was trying to be whatever 'normal' is, like an able-bodied person," he said.
What Nelms wanted more than anything was for others to see him for him — not for his condition.
It wasn't until recently that Nelms finally came to peace with his disability and began to see how he could use his experiences as a force for good.
"I hated my body and hated myself for the longest time. I couldn't grasp, 'Why me?' It took me until 2020 to fully accept who I am and my disability," he said.
"Then I began thinking, 'How can I turn it around to a positive? How can I help other people?'"
The answer: Telling his story and the stories of others with disabilities. In doing so, he hopes to help those with disabilities to feel more comfortable talking about their challenges and needs, and foster society's understanding and acceptance of disabilities.
Nelms has wasted no time getting started on his advocacy career. At Piedmont, he is involved in the Student Government Association and the Diversity, Equity, and Inclusion Council. He is also the opinions editor for the student newspaper, The Roar.
He also creates blogs, videos, and podcasts that he shares on his website under the title "Rolling Through Life" (rollingthroughlife.org).
Whatever form his stories take, his message is always the same:
"I'm not just my disability. I'm a 20-year-old college student. I'm the same as everybody else," Nelms said.
"Sure, I use a wheelchair, and everyone else uses their legs, but I'm still a person. I have a personality. I have a life."
For more information about accessibility on campus, visit piedmont.edu/student-resources/disabilities-support/.