Back to news
Piedmont Education Grad: 'I am Making a Difference'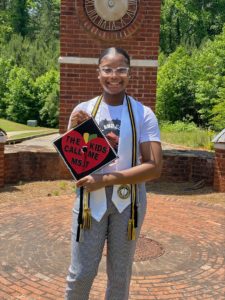 Deoni Thigpen can still remember the moment she decided to become a teacher. She was in third grade. Her teacher called on her. Thigpen didn't know the answer to the question. Her teacher made her feel embarrassed.
Then and there, Thigpen knew what she was going to do with her life.
Now, with a bachelor's degree from Piedmont University — and soon a master's degree too — Thigpen is working to ensure her students never feel the way she did.
"The first thing I did when I got in the classroom was take the time to get to know my students and for them to know me too," Thigpen said.
"In my classroom, they're all special people."
Thigpen spent much of her childhood near Chicago; that's where she was living when she decided to become a teacher. When she was 12, her family relocated to La Grange, Georgia, but her plans for her life never changed.
Thigpen ran track and field in high school, and it was her sport that first drew her to Piedmont. Once she visited campus, it was the College of Education that convinced her to stay.
"The education program was just a great match. From the first time I stepped on campus, I could tell there was that close-knit feeling. I'd gotten used to the small-town feel in LaGrange, and I wanted that feeling in college," she said.
"Piedmont treated me like a person, not a number."
While at Piedmont, Thigpen continued running, winning conference titles twice in her four-year career. She graduated with her Bachelor of Arts in Education in 2021, and she is on track to graduate with her Master of Arts in Elementary Education in 2023.
"I considered other options for my master's, but I knew how Piedmont operates, and I knew it would prepare me to go farther in my career, so I decided to stay," she said.
Thigpen began her first year of teaching in August at Mountain View Elementary in Manchester, Georgia. She teaches fourth-grade social studies and science.
While nothing compares to being in the classroom day to day, and interacting with students who come with unique abilities, challenges, and ambitions, Thigpen said Piedmont provided her with a solid foundation for her career.
"Piedmont definitely prepared me to manage my time," she said.
"I'm able to plan an entire lesson, with learning goals and targets, in 30 minutes because Piedmont had us practice and practice. That allows me to invest the time I need to in classroom management and building relationships with my students."
Thigpen has no doubt she chose the right path. She shared this anecdote from her classroom:
"I was teaching a new lesson, and I related it back to something I'd taught the week before. One of my students said, 'Oh yeah, I remember you teaching that,' and she started teaching the class what I had taught the week before," Thigpen said.
"They do listen to me. I am making a difference."
Piedmont University places teachers at a higher rate than any other education preparation program in the state of Georgia. Learn more about Piedmont's education programs at piedmont.edu/education.