Back to news
Piedmont University to Host Exhibition Featuring Work of Celebrated Sculptor Kenneth Baskin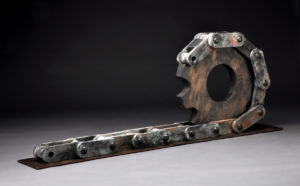 Piedmont University's Mason-Scharfenstein Museum of Art will host an exhibition featuring the work of sculptor Kenneth Baskin beginning Jan. 13.
"The museum is excited to host Kenneth Baskin for our first exhibition of 2022. This will be the only exhibition exclusively dedicated to sculpture this year," said Rebecca Brantley, assistant professor of art and director of the Mason-Scharfenstein Museum of Art.
"Baskin's ceramic work is beautifully crafted. It's a fine example of expert craftsmanship and mastery of the ceramic medium. Clay enthusiasts will be especially interested in his work. Conceptually, Baskin draws from the idea of the artifact as an object created using human ingenuity."
Baskin's exhibition at Piedmont, titled Mechanical Artifacts, is inspired by the history of the Industrial Revolution and its impact on our society.
Baskin holds a Bachelor of Fine Arts from the College for Creative Studies in Detroit, Michigan, and a Master of Fine Arts from the University of South Carolina. In 2007, he received the National Council on Education in the Ceramic Arts' Emerging Artist Award. He was recently selected for a solo exhibition of his work at the Taipei County Yingge Ceramics Museum in Taipei, Taiwan. In conjunction with that exhibition, he was invited to be a visiting artist, workshop instructor, and lecturer at Tainan National University of the Arts in Tainan, Taiwan, and National Taiwan University of the Arts in Taipei. Baskin has also been featured in the magazine Ceramics Monthly.
The exhibition will be in place Jan. 13 through Feb. 10. A reception celebrating Baskin's exhibition will take place Feb. 10 from 5-7 p.m. The museum is located at 567 Georgia St. in Demorest. Hours are 12 to 5 p.m., Tuesday-Saturday. The reception and exhibition are free and open to the public.
Face coverings and social distancing will be required at both the reception and exhibition.
For more information on Piedmont University's fine arts programs and events, visit piedmont.edu/fa.