Back to news
Mellichamp Family Establishes Scholarship Honoring Brother's Love for Science, Education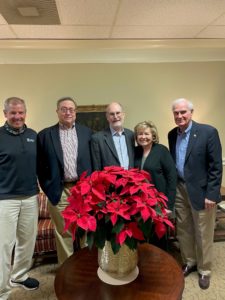 Piedmont University students aspiring to become scientists or science educators will benefit from a new $200,000 endowed scholarship the Mellichamp family has established in honor of their late brother, Stuart, who passed away Sept. 18, 2021, at the age of 77.
"I think he would be quite touched to know that subsequent generations of students are pursuing their quest for knowledge as a result of this scholarship," said Piedmont President James F. Mellichamp.
Stuart Mellichamp caught the "science bug" as a student at Toccoa High School.
"He was fortunate to have a number of high school teachers who were graduates of Piedmont," President Mellichamp said.
"I feel certain that's where he developed his interest in science and decided to pursue science and science education degrees."
President Mellichamp recalled that his brother would often bring science experiments home from school.
"I can distinctly remember my mother being totally shocked to find frogs in suspended animation in our freezer," he said.
Stuart Mellichamp went on to earn a Bachelor of Science in Zoology and a Master of Science in Education from the University of Georgia. After retiring from the U.S. Navy, he worked as a science instructor at Hillcrest High School (Simpsonville, South Carolina). He also taught at Clemson University, where he completed additional post-graduate studies, and was an instructor at Greenville Technical College. He retired in 2012 after helping multiple generations of students acquire an appreciation of science.
"My three brothers and I somehow naturally gravitated to careers in teaching, most likely because our parents instilled a great love of reading and learning in us from an early age. Stuart had a real passion for teaching and was successful in passing that passion along to several generations of science students," President Mellichamp said.
"He had a wonderfully apt saying for his students: More things are missed from not looking than from not knowing. He spent 40 years helping his proteges learn to look."
In addition to President Mellichamp and his husband Daniel Smith, Stuart is survived by his brother Duncan, a retired professor of chemical engineering at the University of California Santa Barbara, and his wife Suzanne Mellichamp, both of Santa Barbara, California; and his brother Joseph, a retired professor of management science at the University of Alabama, and his wife Peggy Mellichamp, both of Johns Creek.
The Stuart P. Mellichamp Endowed Science Scholarship will benefit two students each year who are: majoring in the sciences, have a strong interest in science education or research, are starting their final year of studies, have at least a 3.0 cumulative GPA, and entered Piedmont University as first-time-in-college students.
"Although he was never a student here, Stuart was proud of the relationship that students at Piedmont have with their professors. He commented numerous times about how fortunate they were. That's something that is rare at large public universities nowadays," President Mellichamp said.
For more information on scholarships at Piedmont University, visit Scholarships | Piedmont University.