Back to news
Piedmont Grad Named Gwinnett County's Middle School Teacher of the Year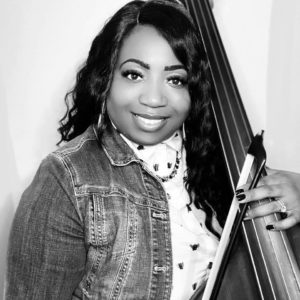 Piedmont University alumna Taniesha Hines-Pooser is Gwinnett County Public Schools' 2022 Middle School Teacher of the Year.
"It feels amazing," said Hines-Pooser. "It is extremely exciting to represent my fellow music educators in this way."
Hines-Pooser teaches orchestra at Berkmar Middle School in Lilburn. Gwinnett County Public Schools is the largest school system in Georgia, with 141 schools and nearly 180,000 students. The school system announced Hines-Pooser as Middle School Teacher of the Year on Tuesday.
Hines-Pooser is now in her 11th year of teaching, a career she's using to teach students not only about music, but also about themselves, their classmates, the world, and how they can make it a better place.
She was in fourth grade in Northern Virginia when she was first introduced to music. Her teacher taught her to play the violin and started her thinking about career paths.
"He was a fantastic teacher. He would always tell me that I would make a great teacher one day. He planted these great seeds of support and encouragement," Hines-Pooser said.
She stuck with music, switching from the violin to the bass in the eighth grade, but she intended to pursue a career in computer engineering.
"I saw music as a way to get scholarship money," she said.
When she visited the University of South Carolina, where she earned her bachelor's degree in music education, her entire life plan changed. She talked to faculty and staff members, learned about the audition process, and as she did, realized that her heart was in teaching, not engineering.
"I was toggling between computer engineering and music in my head, and as I thought more about it, I said, 'You know what, I'm going to teach.' These seeds my teacher had planted years ago began to sprout," she said.
She went on to earn a master's in education from Columbia College and was teaching in Gwinnett when she learned of Piedmont's Educational Specialist program. She earned the degree, with a concentration in music education, in 2019.
"It was such a great experience," she said.
"It was very leadership focused. It helped me with curriculum, instructional calendars, and creating curriculum calendars."
In her work at Berkmar, Hines-Pooser aims to create the same welcoming environment she experienced in her music classrooms when she was growing up. It's in the "safe space" she creates that students are able to open up and connect with others — and when they do, they learn lessons that go far beyond music.
Music presents numerous opportunities to help her students develop collaboration skills, teamwork, and creative and critical thinking. She also helps her students research career fields within music, from music therapy to music production, to help them see ways they can put their passion to work in the future.
One of Hines-Pooser's favorite things to do is show her eighth graders videos of their sixth-grade performances. Watching the footage, they see for themselves how much they've grown.
"They get to see how they've evolved, how much confidence they've gained, and the sense of self they've developed," she said.
"The confidence they build through music will stay with them after they leave my classroom. It's something I try to instill in all my students."
Hines-Pooser also uses her position to teach her students about diversity and their own limitless potential.
"Sometimes I remind them that having a black woman as an orchestra teacher is not the norm. We are very few and far between," she said.
"I use my own story as an opportunity to show them that they can do this — or anything they want to do."
In addition to her work at Berkmar, Hines-Pooser trains music teachers throughout the Gwinnett system and is the founder of ReColorEd, an educational platform that helps school districts facilitate diversity education in music classrooms. Through ReColorEd, Hines-Pooser has trained teachers throughout the country.
Hines-Pooser provided an example to illustrate her work with ReColorEd:
"For instance, when we come around to Black History Month, and music teachers pull music to teach during the month, there is this appropriation versus appreciation issue that we face," she said.
"There can be a tendency to just check the box. Instead, we should take the time to learn and teach the music in the style ​it was intended,​ with the understanding of its context, history, and cultural nuances. We need to make sure it is represented correctly. When we do this, we ​ensure our students feel seen and valued. My hope is that through these sessions, I can raise awareness and empower traditionally underrepresented musicians to compose more music from their culture to contribute to greater diversity in music."
With her Piedmont degree and through her work with students and teachers, Hines-Pooser is striving to remove the barriers she has experienced as a music student and music educator.
"I want to see more people like me in music and music education," she said.
Learn more about Piedmont University's College of Education.