Back to news
When COVID Kept Family Away, Brett Loftis Brought Sports Home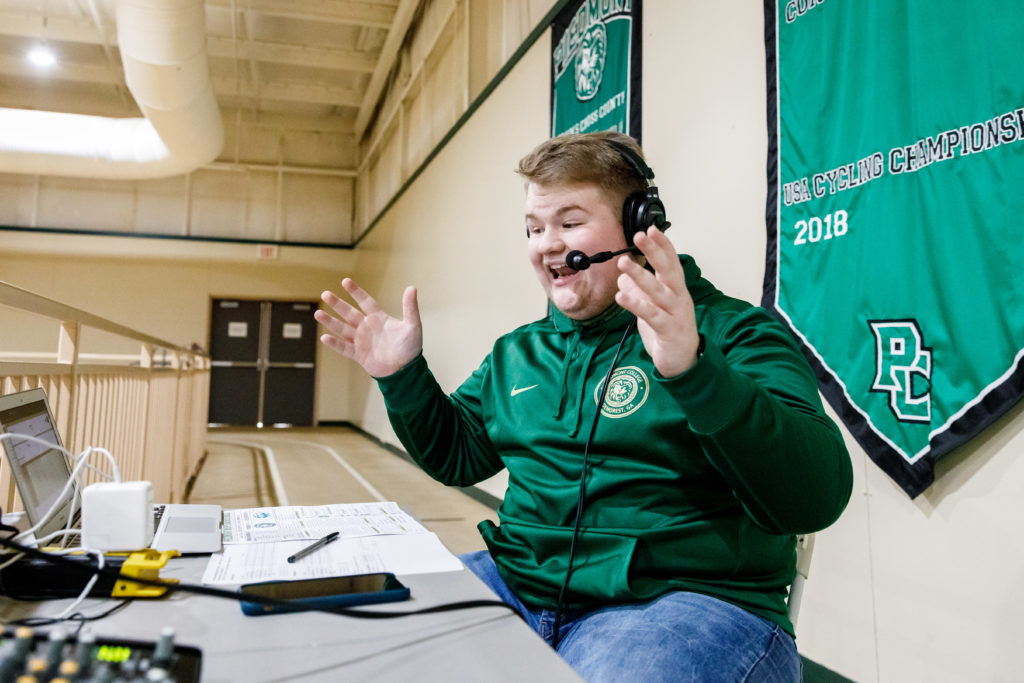 Six words have made Brett Loftis '22 a Piedmont University sensation: "Where else would you rather be?"
For families who want to watch their student-athletes perform in person, the answer is nowhere else but on campus, but COVID changed the game in 2020. During the pandemic seasons, when Piedmont parents had to watch from a distance and through a screen, Loftis brought them the excitement of being there.
"He has spent many late nights, holidays, and semester breaks bringing the play-by-play coverages of Piedmont sports to family and friends who could not attend the contests in person," said Dr. Dale Van Cantfort, professor of mass communications. "His enthusiasm and love for 'his' home team have endeared him to many Piedmont supporters."
Praise for Loftis on the private Facebook page for parents and families has been effusive:
"Reminded me of Harry Caray. He has a great future."—Gary E. Earls
"He's the ABSOLUTE best! Love hearing him commentate the volleyball games this season!"—Lisa Sconyers
He is AWESOME. We love his enthusiasm during the Lady Lions soccer games! He will do big things!"—Roxanne Willis Tig
Loftis prepares for play-by-play broadcasting in much the same way elite athletes ready for competition. He studies past successes and near-misses and concentrates on progressing.
"I go back and listen to my broadcast after every game, whether I watch half of it or go back and watch somewhere where it felt like I struggled, or to where I felt something was really good," he said. "I need to go back and listen so I can continue to improve."
He's a natural at calling baseball. He's been a fan since he was born in the early morning hours after a stellar performance by his father's favorite pitcher, the Atlanta Braves' Greg Maddux. For other sports, like soccer and lacrosse, he has had to learn the rules. It is evidence of how he throws himself into the process and takes his role seriously.
"I don't feel like I can call myself the 'Voice of the Lions' if I'm not voicing every single Lions sport that we broadcast," he said. "You learn the most about yourself when you're in the most uncomfortable spots."
"As an educator, what I like about Brett is his desire to always work at improving his skills," Van Cantfort said. "Brett's best work is still to come."
When families were allowed back on campus for competitions, they expressed their appreciation to Loftis in person.
"Especially during basketball season, because I had parents coming up to me the first few games we had this year, and I couldn't get out of the gym because I talked to every single parent, which I love," Loftis said.
Where Else?
He continues to use his signature "Where Else Would You Rather Be" line. He recalls its origin as "one of the most exciting moments not just in my broadcasting career but in my life."
"It was right off the top of my head," Loftis said. "It was the first (baseball) game we had fans back. It was like David versus Goliath. Adrian College has three (Division III) All-Americans playing. They make two errors on the same play. Fans are going nuts. We'd just tied up the ballgame. My voice is half-gone. It's 40 degrees, and it's 'Where else would you rather be?'"
His words may soon appear on Piedmont University shirts, in podcasts, and elsewhere. He would love to see it become a slogan for the school.
Loftis is also managing editor of the university newspaper, The Roar, station manager for student-run radio station WPCZ (98.7 FM in Demorest, Georgia, and online at piedmontroar.com/wpcz), and president of the Piedmont Debate team.
He will graduate in May with a degree in sports communications and has landed a play-by-play radio job for summer 2022 with the Wisconsin Rapids Rafters, a Northwoods League collegiate baseball team.
His goal, as it has been since he was 8 years old, is to be the greatest broadcaster of all time. Loftis wants people to build statues of him and talk about him for years after he's gone.
"It's not prideful. I don't want people to look at me. I want that to be a statement that I wanted to be the best, that I worked to be the best, and that I was the best," he said. "You can plan and map out everything you want to do, but if you don't work for it, you're not going to get anything."