Back to news
Piedmont University Professor Wins National Award for Work In Fields of Creativity and Gifted Education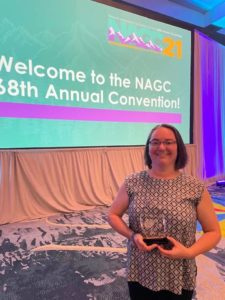 Piedmont University's Dr. Sarah Sumners is the recipient of the National Association for Gifted Children Creativity Network's E. Paul Torrance Award.
"This is a great honor," Sumners said. "I'm proud to represent all those doing outstanding work in the field of creativity."
The Washington, D.C.-based NAGC supports those who enhance the growth and development of gifted and talented children through education, advocacy, community building, and research. The NAGC's Creativity Network initiates, develops, and implements practices and materials that promote creativity, particularly among gifted children. The E. Paul Torrance Award honors individuals and groups who are advancing the understanding and recognition of creativity among gifted children. E. Paul Torrance was a psychologist who studied creativity and education.
Sumners received the award at the NAGC's annual conference in November.
Sumners was nominated for the award by a colleague who wrote: "I can think of no one who has made more of a difference fostering creativity in children locally, nationally, and internationally than Sarah. Through programs for children, her training activities, and her research, she has affected many students and educators. E. Paul Torrance would be proud!"
Sumners joined Piedmont's faculty as an associate professor of education in August. She teaches at the Athens campus.
Sumners started her career as a high school history teacher before earning her master's degree in gifted education from Mississippi University for Women. She went on to earn her doctorate in curriculum and instruction from Mississippi State University.
Prior to Piedmont, Sumners managed the University of Georgia's Torrance Center for Creativity and Talent Development, which is well known for giftedness training programs for educators and summer educational programs for children.
Describing her work through the years, Sumners said: "What I do is help teachers understand giftedness and creativity and how to infuse creativity into their classrooms."
Sumners came to work for Piedmont for more opportunities to teach and mentor current and future teachers. Sumners is teaching students studying education at the master's and doctoral levels.
"Ninety-nine percent of my students are current educators," Sumners said.
"My main goal, at the 1000-foot level, is to help them recognize their place not only as practitioners but also as scholars. I strive to help them apply research methods to their classroom and their teaching methods to research, helping them to become stronger educators for the benefit of our children."
Learn more about Piedmont's College of Education at College of Education | Piedmont University and the Athens campus at Athens Campus | Piedmont University.