Back to news
For Piedmont Actuarial Science Student, Her Major Is 'A Path to a Great Life'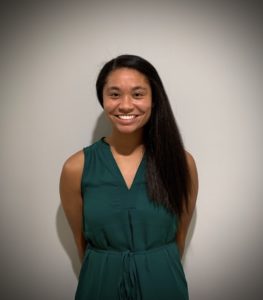 As an actuarial science major, Jade Edwards is frequently asked this question: What is actuarial science?
In response, Edwards explains that an actuary uses mathematics and statistics to assess risk in industries such as insurance and finance, but for her personally, the field is much more than this layman's definition.
"For me, actuarial science is the path to a great life," she said.
"There is so much opportunity in the field. Actuaries are very well compensated. I'll get to do work that's fun and makes a difference, but I'll also have a great work-life balance."
When she was in the fourth grade in Dayton, Ohio, Edwards decided she wanted a career based in mathematics. She and her classmates were learning the multiplication tables, and it all just "clicked."
"I was getting 100's on all my tests. It just came easy," Edwards said.
As she grew older and started considering career paths, she knew she didn't want to teach, so she planned on becoming an accountant because it was the only other occupation she knew of that involved math.
Then a group of students from Ohio State came to her high school to talk about actuarial science.
"I didn't know what it was before then, but after I did a little more research, I decided that was what I was going to do," she said.
"Math has always been my thing, and in actuarial science, you do higher-level math techniques than in accounting. You also get to work with different software programs. It's a great fit for me."
An avid soccer player, Edwards sought a college where she could play and pursue her intended major. Piedmont University, an NCAA Division III institution, emerged as the top choice.
"There were other schools where I could play, but they didn't offer the actuarial science program," she said. "Piedmont had everything I was looking for, and it was near the University of Georgia, where my mom went to college, and we had lived in Georgia for a while when I was younger."
Since enrolling at Piedmont, Edwards has completed one internship and been accepted to a second.
Her first internship was with Great American Insurance Group, based in Cincinnati. Edwards learned about the calculations used to price annuity premiums.
"You have to strike a balance to make sure the company is making a profit but that there's a good return for the investors too," she said.
Next summer, Edwards will intern with Mercer, a global actuarial and pension consulting services firm. Edwards will temporarily relocate to Phoenix for the internship.
"I want to eventually live out west, so I was looking for internships in Arizona, Colorado, and California, and I'm really excited I landed this one," she said.
While she's still learning about the field and the career opportunities it offers, Edwards is excited to know that wherever she lands, she'll be making a difference as an actuary.
"For instance, there are actuaries that determine the rate the government charges people for Medicaid," she said.
"Actuaries make sure that the program is both affordable for people but also solvent for the future. You do get to make an impact on real people.
"When I talk to actuaries, they always love their job. No two days are the same. It's a pretty great career."
Piedmont, she said, has proven to be a great place for her to prepare for the career ahead of her.
"Everyone is really helpful and nice," she said, naming Associate Mathematics Professor Dr. Douglas Torrance as being especially supportive.
"I can always go and talk to him if I need help with anything in my classes. It's a great atmosphere."
Her advisor, Dr. Michael Berglund, is "also very supportive and helpful … and there to talk to if I need," she said.
She's also grateful for the friends she's made in the Actuarial Science program.
"We stick together," she said.
Actuarial science is consistently rated as one of the best jobs in America, with a median salary of more than $111,000 per year, according to the U.S. Bureau of Labor Statistics.
Learn more about Piedmont University's Actuarial Science program at Actuarial Science | Piedmont University.