Back to news
Piedmont University to Host Exhibition Featuring Work of Beloved 'Knee Neep' Artist Jan Walker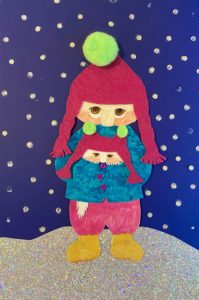 Beloved local artist Jan Walker will transform Piedmont University's Mason-Scharfenstein Museum of Art into a Christmas wonderland for an exhibition that opens Nov. 18.
"It is going to be so much fun, very glittery, colorful, and Christmasy," Walker said. "It will be a wonderful start to the season."
Walker opened The Children's Gallery in Cornelia in 1979. Since then, she has taught drawing to more than 3,000 children, as well as teens and adults.
In 1984, she created the Knee Neep, a character she drew on the knee of one of her students. She's since written a series of books featuring the Knee Neeps. Her most recent book, The Christmas Neep, will be available for purchase at two receptions celebrating Walker's Piedmont exhibition.
In addition to Walker's art, the exhibition will feature creations by her students; the creations will include Christmas tree paintings and ornaments.
The receptions will take place Nov. 18 and Dec. 2 from 4-6 p.m. The receptions are free and open to the public.
"The Mason-Scharfenstein Museum of Art aims to serve our community in various ways," said Rebecca Brantley, director of the museum.
"This exhibition gives us an opportunity to reach out to families and children in Habersham and the surrounding counties. We will have cocoa, cider, and holiday treats at the receptions. We hope to inspire our art and art education students!"
The exhibition will be in place Nov. 18 through Dec. 15. The museum is located at 567 Georgia St. in Demorest and is open 12 to 5 p.m., Tuesday-Saturday. Admission is free.
Face coverings and social distancing will be required at both the exhibition and the receptions.
For more information on Piedmont University's fine arts programs and events, visit piedmont.edu/fa.