Back to news
Second Stress Less Set for Nov. 16 on New Nature Trail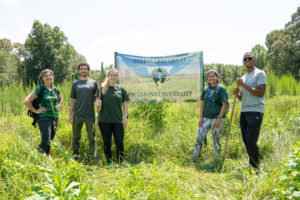 On Tuesday, Nov. 16, at 1:30 p.m., the second Stress Less Quest walk will take place on a nature trail near the New Bedford residence hall in Demorest. Everyone is invited to take part.
Business professor Sandra Maughon and four Piedmont seniors marked and cleared the trail in the spring. The first Stress Less Quest in April helped provide foot power that stomped down vegetation along the path. On Oct. 27, a forestry mulcher was brought in to further define the route.
Student Life and Leadership named the event the "Stress Less Quest" because it is scheduled near the end of the semester and finals. Exercise, fresh air, beautiful surroundings, time with friends, and a little mind-wandering along the foot path could help keep stress levels in check, Maughon said.
Attendees will be able to walk the newly cleared trail along several paths of varying lengths.
"The trail is still rugged, so closed-toed shoes and long pants are recommended," Maughon said. "The trail has several branches and forks, so walkers can go for a short half-mile walk or spend a couple of hours hiking up to 5 miles."
The trail will be part of a new athletic complex, as was suggested by Fred Bucher, the now-retired assistant vice president for facilities management and safety. He spoke to Maughon's project management class about the new sports complex, which will include track and field facilities, 12 tennis courts, a softball field, men's and women's locker rooms, and ample spectator seating and parking. The facility will be located on 80 acres adjacent to the Demorest campus that Piedmont purchased in 2019. Bucher mentioned that it would be nice to incorporate a nature trail.
Business major Leah Higginbotham, whose concentration is accounting and finance, took on the role of project manager, and planning began for the trail. Joining Higginbotham on the project are Heidi Lopez, a business major whose concentration is marketing; another business major, Connor Moranos, whose concentration is management; and Michael Mack, a political science major and president of the Student Government Association.
The students envision a multi-use, multi-distance labyrinth of trails that fully integrate with the completed sports complex. Extra amenities may include picnic areas, study gazebos, and at least one dog park.
All those involved in the project hope the nature trail will be enjoyed by Piedmont students, faculty, and staff, and by residents in the communities surrounding the university.
Head Cycling Coach James Carney said the 1.5-mile-long trail will be a great addition to the sports complex and the campus.
"The trail will maximize Piedmont's expansion and allow everyone to see the progress as we move forward with the new facilities," he said. "It's a great piece of property with tons of potential."
The Stress Less Quest has a rain date of Friday, Nov. 19, 1:30 p.m.