Back to news
Piedmont's Instrumental Chamber Ensembles to Perform Free Concert Nov. 18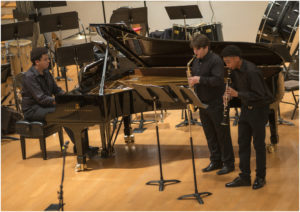 Piedmont University's Instrumental Chamber Ensembles will perform the works of Haydn, Brahms, and other compositions handpicked to showcase their talents during a concert at 7:30 p.m. on Nov. 18 at the Chapel located on the Demorest campus, 992 Central Ave.
The concert is free and open to the public. Face coverings and social distancing will be required.
The Instrumental Chamber Ensembles are comprised of students taking the university's chamber ensemble class, as well as two students studying piano under the direction of Artist-in-Residence Jeri-Mae Astolfi.
Each semester, the instruments of the students taking the class vary. This semester, there are three clarinetists and four saxophonists. It's Director Dianasue Walton's job to find music that works for the instruments on hand.
For the upcoming performance, Walton selected Haydn's London Trio No. 1, which was originally written for the flute and cello, but which has been scored for the clarinet. The concert will also feature a version of Linus and Lucy, from A Charlie Brown Christmas, written for saxophone, as well as Saxophobia, a piece Walton was saving for the right moment — which happens to be this semester.
To make use of Piedmont's impressive collection of Steinways, Walton also sought pieces that would incorporate piano. Two clarinetists, a saxophonist, and a pianist will collaborate on works including Josef Mysliwecek's Trio Sonata, which was originally written for flute, violin, cello, and piano.
"It's going to be really fun," said Walton. "This isn't music the students might normally play, and it's not a performance the attendees will find just anywhere. It's going to be a great night for everyone involved."
At Piedmont, 200 students, or about 15 percent of the undergraduate population, participate in music academic programs and ensembles. The chamber ensemble class is a great example of opportunities Piedmont provides for students to stay involved in music, even if that's not their major.
"In the chamber ensemble class, we do have music majors, but we also have students studying English, nursing, and biology," Walton said.
"It's a great way for students to learn an important lesson: Music is for everyone. If you want to play, this class is open to you. Music can always be part of your life."
To learn more about Piedmont's fine arts programs and events, visit piedmont.edu/fa.