Back to news
Piedmont Athens Student Finds Her Way: 'I'm Going to Be a Nurse … to Help People'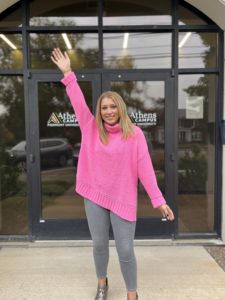 Some college students enroll knowing their major, their future career, exactly what they will do after graduation. Others need a little more time to make those big decisions.
Such was the case for Katy Ogle, who transferred to Piedmont University's Athens campus in August, and soon realized what she wants to do in life.
"I'm going to be a nurse," said Ogle. "I want to help people."
Ogle, a native of Oglethorpe County, graduated from Oglethorpe County High School and began her college career at Athens Technical College. She was taking general education classes and loosely considering a career in business, but she wasn't convinced that was the right direction to go.
After her freshman year, she transferred to Piedmont's Athens campus.
"My brother had attended the Demorest campus and loved it," she said. "When I went through the application process, everyone was super nice. They took the time to help me and get to know me. I didn't experience that at the other places I was applying."
When she started at Piedmont in August, one of the first classes she took was anatomy. Within weeks, Ogle had gained new clarity on her interests and ambitions.
"I really enjoy it. I enjoy learning about the body," she said.
Ogle has decided to pursue nursing.
"Since coming to Piedmont, I've realized I want to help people, to make patients and their families feel comfortable and taken care of when they need it most."
In just a few months, several Piedmont faculty and staff members have made an indelible impression on Ogle's life, helping her to feel seen, heard, and ultimately, confident enough to declare a major and a professional pursuit.
Ogle named Associate Director of Athens Admissions Michelle Leach and Associate Professor of Biology Julia Schmitz as being particularly influential.
"Ms. Leach was so helpful when I was applying. She stayed in contact with me through the whole process. We've really made a close connection. Dr. Schmitz is always willing to help us when we don't understand something, or we need to go over something again. She always tells us to bring her our notes and she'll help us figure out how to study," she said.
"It really does feel like a family."
Ogle, who now lives in Athens, describes attending the Athens campus as "having the best of both worlds."
"From the Piedmont Athens campus, I can walk to restaurants and shops, but when I'm at school, it's a small, close-knit environment where people know me and want to help me succeed," she said.
"If I had gone to a massive college with 300 people in a class, I wouldn't have made those one-on-one connections. Coming here has helped me learn about myself and what I want to be."
Learn more about Piedmont University's Athens campus by visiting piedmont.edu/athens-campus. To learn more about Piedmont's nursing program, visit piedmont.edu/program/nursing.